Yes, you can rent a wedding dress. But, your options may be limited.
Walking down the aisle in a white wedding gown is a childhood dream of nearly every girl. Imagining the details of the perfect wedding dress becomes like a part-time job. Others may be less interested in wedding dress shopping. Some find it to be a very nerve-wracking process that doesn't always go as smoothly as imagined. On top of that, wedding dresses can be pricey. And what if you are working under a really strict budget?
The idea of renting a gown verses buying one seems like the dream scenario. Instead of paying thousands of dollars for a gown that's going to be worn only once, you can rent a dazzling wedding dress without the price tag. Unfortunately, it isn't that simple and there are a lot of factors to ponder. Renting a wedding dress could save you money, but the final decision should be made after considering the pros and cons of renting your bridal outfit.
Rent A Wedding Dress: The Pros
Champagne on a Beer Budget
The biggest draw to renting is certainly cost savings. By renting you may be able to save hundreds of dollars on your bridal gown. Plus, you may even be able to go for a higher end designer that you might not have otherwise been able to afford.
Skip Dry Cleaning And Preservation
After wearing your (likely white) gown for the whole day, it will probably get dirty. When you rent a dress, cleaning is typically included with the rental. You won't have to worry about cleaning AND you will save up to $200 since that's usually the cost of dry cleaning for a gown.
On top of that, you don't need to worry about keeping and preserving your dress after the big day. Once you send it back, the rental company will take care of that. Don't forget that, even though you are renting a dress, you can still go designer and wear a dress by your favorite designer that you probably wouldn't be able to afford if you were buying it.
Rent A Wedding Dress: The Cons
Limited Selection
For starters, selection can be limited and you may not be able to find what you are looking for. We've included a list of wedding dress rental stores below, but you may find that the
Size Constraints
Another thing to worry about is finding the dress you like in your size. And since alterations typically aren't allowed, it will be a tough job to find a dress that fits you like a glove.
Beware of Extra Fees
While the starting price tag may be low, fees can really add up if you aren't careful. You might have to pay additional fees for shipping, insurance, and late fees. Plus, you'll have to be extra careful with the dress since you are the one responsible for any significant damages on it.
No Keepsake
Renting the dress takes away the heirloom option and sentimental value – if you wish to keep your dress and pass it on to the next generation, rental probably isn't for you.
Renting Isn't The Same Experience as Buying
When renting a dress, you miss out on the shopping experience. If you've imagined the shopping experience with your mom being next to you, the veil brought out, tears shed and bubbly popped – then you should probably stay away from renting the dress.
Where Can I Rent a Wedding Dress?
You may be wondering – where can I rent the dress? Unfortunately, there is a pretty limited selection of wedding dress rental stores. And with that you may face a lot of limitations.
Rent The Runway is the most recognizable name in the game of clothing rental. While they do offer a selection 'for the bride', most of the styles are best fit for a more casual wedding, or other wedding events you may want a fancy white dress for – Think the bridal shower, rehearsal dinner, and honeymoon.
Rent The Runway has a much more robust selection for bridesmaids. They have hundreds of bridesmaid dresses from great brands like Reformation, Badly Mischka, and Jenny Yoo.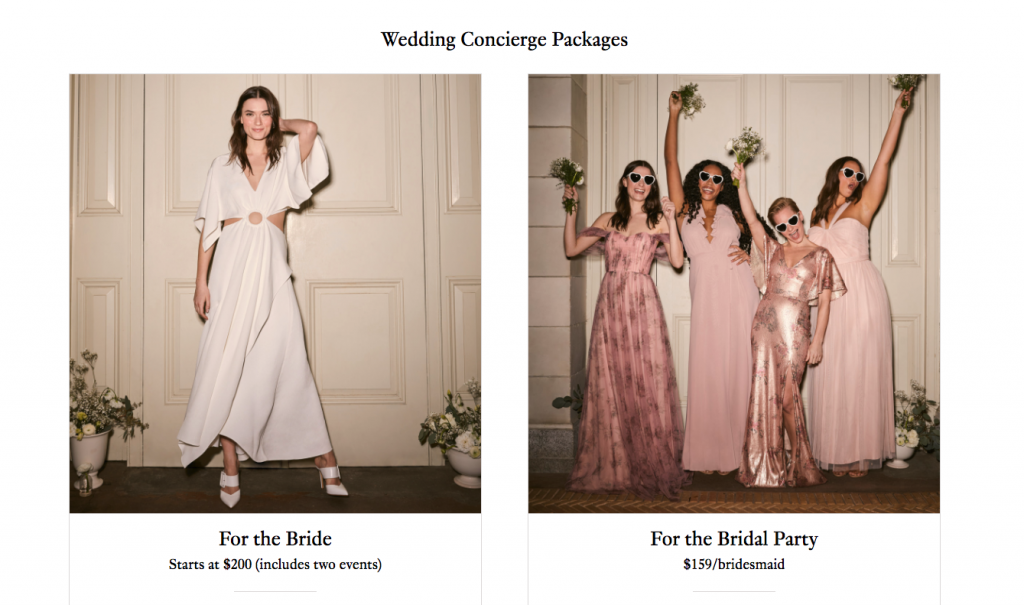 Our next store offering bridal gown rentals is Poshare. Poshare is a marketplace for renting and selling authentic designer and vintage clothing, shoes and accessories. Offering both rental and buying options, you'll find brands like Jovani, Adrianna Papell, and John Paul Ataker in their selection. Be aware, gowns are listed by independent lenders and not Poshare directly. One nice benefit is that many of the dresses are offered for rental periods up to 14 days!
Budget Friendly Alternatives To Renting
Buy Preowned
There are other options to consider for budget brides if renting doesn't feel like the right fit! One alternative is considering a preowned wedding dress.
While you can find amazing dresses for low prices, some consider wearing an already worn dress bad luck since that dress has already been associated with another marriage.
Try Off The Rack and Sample Sales
Some bridal salons offer their gowns off the rack. This means that you can purchase the gown straight of their floor rather than ordering it brand new, typically for big discounts. Stores that don't offer this typically may have sample sales and trunk sales that you can take advantage of!
Unexpected Retailers
You might be surprised at some of the places you can find a wedding dress! Look beyond your bridal salons and wedding retailers, you'll find some beautiful and affordable dresses at places like Lulu's and H&M!
Is Renting A Wedding Dress Right For You?
Renting isn't for everyone, and it honestly is not our recommended approach for most. While renting is a good solution for the groom and his groomsmen, it is much more difficult for brides.
It's up to you to decide whether to rent or buy the dress. If the advantages look good to you and the disadvantages don't frighten you, you are ready to rent your wedding outfit.