Qr Codes have become popular and really grown in popularity in recent years. Previously, they have been used primarily in marketing, but they can be very practical in every day use. The main purpose of qr codes is to provide quick information to a smartphone owner, so how does this relate to wedding invitations? Your wedding invitation could include a QR code that when scanned will take invitees to your wedding website and/or online RSVP. Not sold yet? Let's talk about the benefits.
Benefits of using a qr code for wedding invitations
1) It's easy for guests to use. Guests who receive your invitation will easily be able to scan it using their smartphones. Now that nearly everyone owns a smartphone, and people of all ages are used to using QR codes in day to day life, you don't need to worry guests won't know what to do with the code. Its so easy, maybe your RSVPs will even come in faster!
2) Reduce human error. If you only add your wedding website link, guests will be required to manually type out the link. If you can manage a shorter domain, this won't be as major of a concern. But typos and errors in typing in the link may result in guests being directed to the wrong place (and being frustrated!).
3) It's cost effective. Compared to mailing out rsvp postcards, creating a unique QR code that links directly to your wedding website is cheaper because it doesn't require printing or postage costs! Plus, you won't need extra envelopes or postage labels either!
3) Unique and modern. QR codes are a great way to create an interactive invitation. Guests will talk about your wedding before they even attend!
5 steps to create your wedding QR code
Step 1: Create and save your wedding website
A wedding website is a great way to share information about your upcoming nuptials with family and friends. You can use the site for RSVPs, guest lists, registries, and more. From traditional website builders to tools designed specifically for weddings, there are tons of options when it comes to building a wedding website. Once you've chosen your platform and created your site, all you need to do is add content and photos!
Step 2: Sign up for a QR code generator
Once your site is up and running, create a QR code that links directly back to this page on your website — or any other page where guests might find useful information about your wedding day. Here's a few QR code generator tools:
RSVPify – RSVPify is a great option as this tool allows you to create a wedding website, online RSVP, and generate a QR code – all in one place! That makes this a great option to create a QR code for your wedding invites. The QR code generator links automatically to your website, so there's no risk of printing a code with the wrong link!
GoQR – Quickly generate a simple black and white QR code using this free QR code generator.
Flowcode – Looking for more unique design options? Check out Flowcode for unique QR code customization options – perfect for matching your wedding invitations.
Canva – Already using Canva for your invites or for their RSVP templates? They have a built-in QR code generator you can use, too!
Step 3: Choose the desired size, color and format of the QR code
These options will vary depending on the QR code generator you select, but there are a few tips you'll want to follow when creating your QR code.
QR codes are typically black and white – this is optimal for ensuring readability. If you are making changes to the color, be sure to choose a dark color with a light background. Enough contrast is important to make sure the code can easily be scanned.
According to SproutQR, the absolute minimum size of a printed QR code is 2 x 2 CM. Be sure your code is printed large enough to prevent issues.
Step 4: Choose your paper wedding invitations
Luckily, most wedding invitation providers allow you to add your own images and graphics. If you are working with a designer, they will be able to easily add your QR code.
TIP: While the QR code is makes it easy for guests to get to your site, you will also want to include your event website link too — just in case!
Step 5: Test your QR code
The final step before you go to print is critical. Make sure to test your QR code to make sure everything is working properly. Depending on your wedding invite provider, you may be able to request a proof or even a printed sample. In your testing make sure that:
Your device can easily detect your QR code
Your QR code is directing to the correct website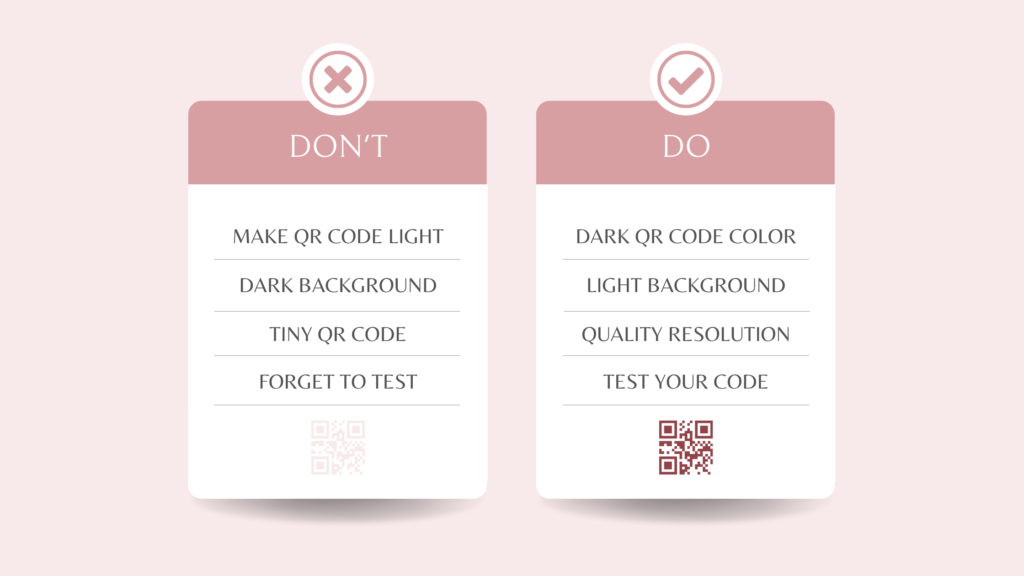 That's it! We hope these steps helped you to create a QR code for your wedding invitations
As long as you have a smart phone, you can use a qr code. And the guests at your wedding are likely to have one too. So why not use a qr code to make your wedding invite a bit more memorable?