This post contains affiliate links and Wedding-Experience will be compensated if you make a purchase after clicking on an affiliate link (at no additional cost to you).
---
Congratulations, you're engaged! As you get started planning, you'll understandably be looking for ways to get inspired and find the right vendors for your day. On top of resources like Pinterest, one great way to start gathering wedding inspiration is through free wedding invitation samples, sent to you mostly free by mail!
Free Modern Wedding Invitation Samples and Sample Packs
The most popular offering of samples is by far wedding invitation samples. Companies offer free sample kits or sample invitations so you can see and feel the quality of the stationary first hand! You can also get a feel for how different types of printing will look. For example, letterpress and foil stationary can be difficult to experience from your computer screen. Plus, did you know colors can look different on the screen verses printed on paper? Many sample kits include a card with color swatches so you can see how different shades print.
Free samples are a great way to figure out what type of invitation is perfect for your style. Plus, they can help you to create a wedding vision or inspiration board to guide you in your planning. As a bonus, many companies include discount codes with their sample packs too! When you're newly engaged, receiving these sample packs in the mail is an exciting way to kick off your planning.
The Best Places to Request Free Wedding Invitation Samples
1. Shutterfly Wedding Samples
Shutterfly offers two unique options to see their wedding invitations first hand. Option 1 is to order their free sample kit. This includes unique designs for you to see the available customization options offered. As a bonus, the wedding invitation sample kit also includes an exclusive 40% off coupon! Option 2 is to self-select 5 free wedding invitation samples from Shutterfly. You can even customize them with your own wedding details rather than receiving sample data.

2. Minted Sample Kit
Similar to Shutterfly, Minted offers a few different ways you can see their wedding invitations offline. The first option is to order their free wedding sample kit which includes a mix of invitation types and swatches. It even comes in a beautiful box, and ships for free. In addition, you can self select a few favorite invites to sample for free. Free samples from Minted can't be personalized. But, at least you can select the designs you'd like to see rather than only receiving the sample offering! This is a perfect option if you have narrowed in on a few options and can't quite decide on "the one"!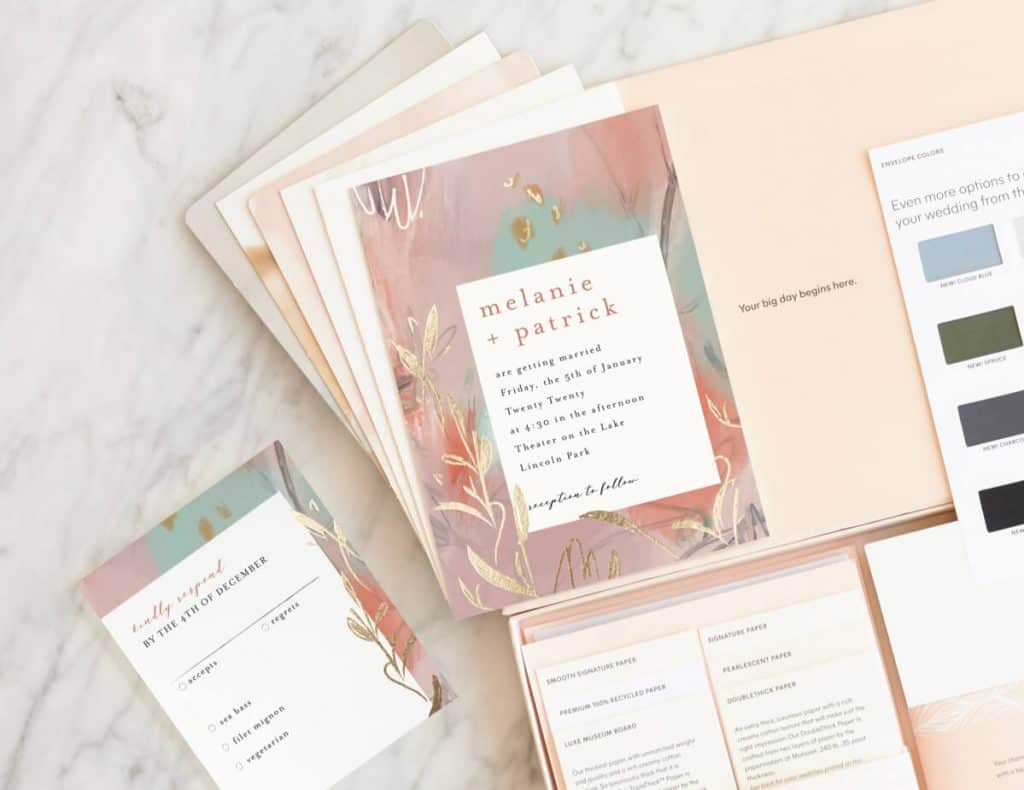 3. Shine Wedding Invitations
Our next free wedding sample set is from Shine Wedding Invitations. Looking for a classic and elegant wedding invitation? Shine is perfect for you! Select your favorite design and they'll send a full invitation set including: invitation, envelopes, enclosure cards, and more. Uniquely, they even include a gorgeous sample wax seal in their set.

4. Paper Culture
Continuing on, we have another fantastic sample kit from Paper Culture. These eco-friendly, recycled invitations are also beautiful. Importantly, Paper Culture is committed to planting a tree with every order, and offsetting their carbon footprint! Request a sample kit 100% free to check out a sample of designs and see their quality!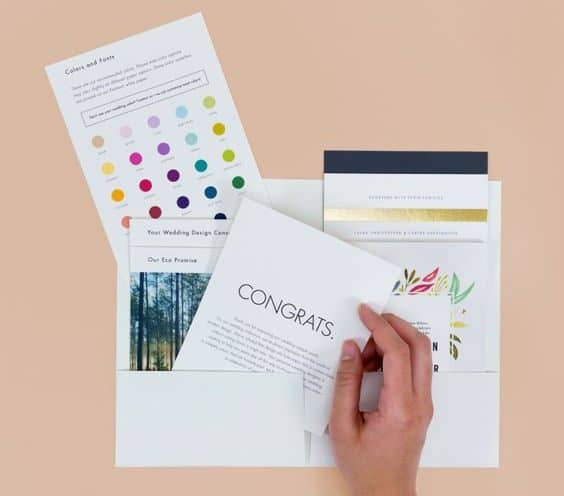 5. Artifact Uprising
Request another totally free sample kit from Artifact Uprising! You'll receive a gorgeous set of pre-selected wedding card suite samples in different printing styles. Just share your wedding date and email to receive this stationary sample. Artifact Uprising offers unique invitation sizes like a 4.25 x 8″. And their envelopes have a signature curved envelope flap. Artifact Uprising is a great choice for couples looking for something unique and modern.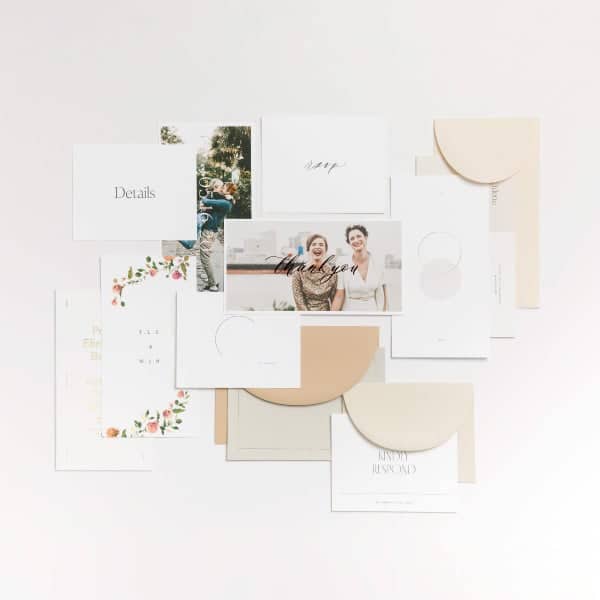 6. The Knot
Everyone knows of The Knot, but did you know they offer stationary? Self-select three wedding invites to sample from The Knot! Use discount code 3FREE to receive up to 3 invitation or save the date samples. Further, they'll send color charts, sample envelopes, and a stationary timeline in their kit.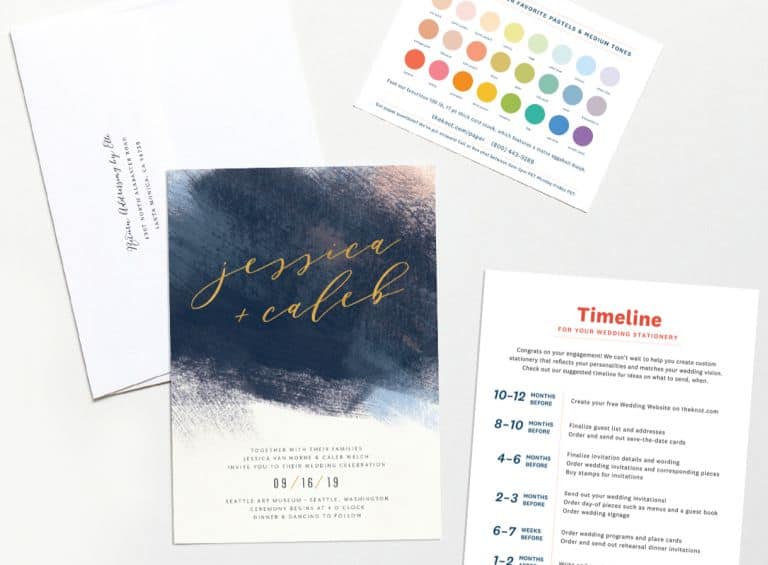 7. Zola
Next up, Zola also offers a invites & paper sample pack! The totally free kit includes a mix of invitation and save the date designs. Additionally, they include envelopes and RSVP cards in a variety of papers and shapes! From our experience, you can typically find Zola's Save The Date offerings for 50% off using code SAVE50. Plus, they are currently offering free Change The Dates if your wedding ends up getting postponed due to the pandemic. So, sending out your save the dates is way more worry-free!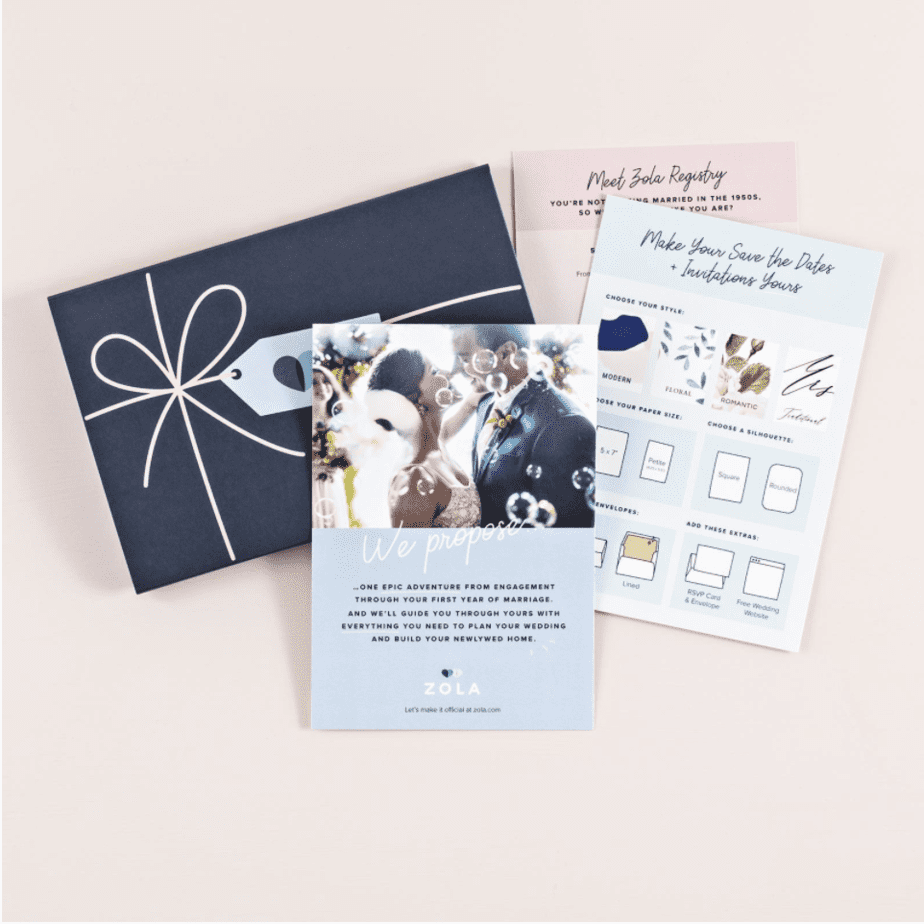 8. Magnet Street
With the touch of a button, order your free samples from Magnet Street! Like other providers, you can order a sample kit, or, select your favorite designs to sample free! Uniquely, you can personalize the text, colors, and even photos of your Magnet Street custom samples. Magnet Street is known for their great prices, so if you are looking for a budget-friendly stationary option, we'd definitely recommend checking them out.
9. Invitations By Dawn Samples
Wedding invitation samples from Invitations by Dawn range in price from 99¢ to $3.99. But, you can get three free wedding invitation samples using code MY3FREE when you checkout. In addition to the samples, you'll receive a color palette card to see printed examples of the color offering!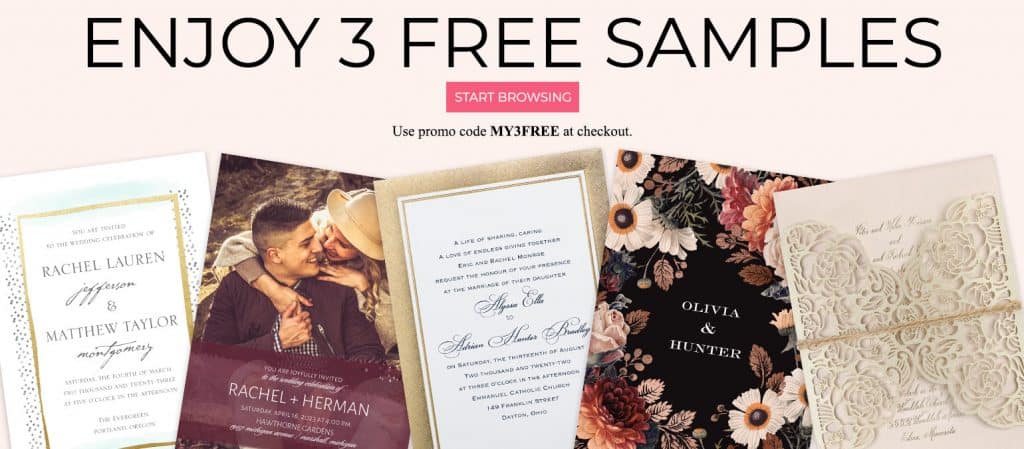 10. VistaPrint
Did you know that Vistaprint carries a line of wedding stationary? Order your 10-piece wedding stationary sample kit to see and feel their selection of wedding stationary! For instance, the kit will include a variety of shapes, paper stocks, colors, and finishes for you to experience. And perhaps most importantly, you'll receive a discount coupon for your future order!

11. Papier
Discover the quality of London-based stationary company Papier's wedding invitation with their sample pack! The set includes a full wedding stationary set. The kit is listed for $1.50 but you can use coupon code ENDLESSLOVE to get it for free. You'll just pay shipping!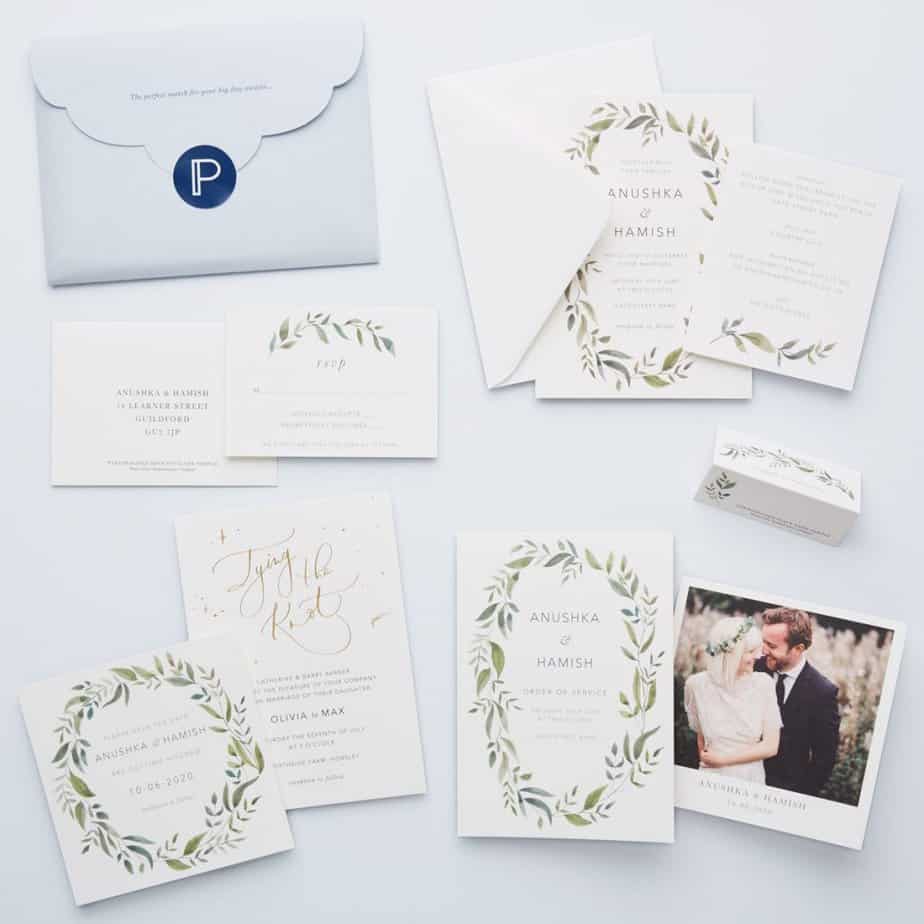 12. Mixbook
Next up, we have Mixbook's wedding sample kit! The wedding kit is totally FREE if you live in the United States. The sample kit will give you a feel for their totally customizable wedding stationary options. Plus, this kit too will include a sweet deal!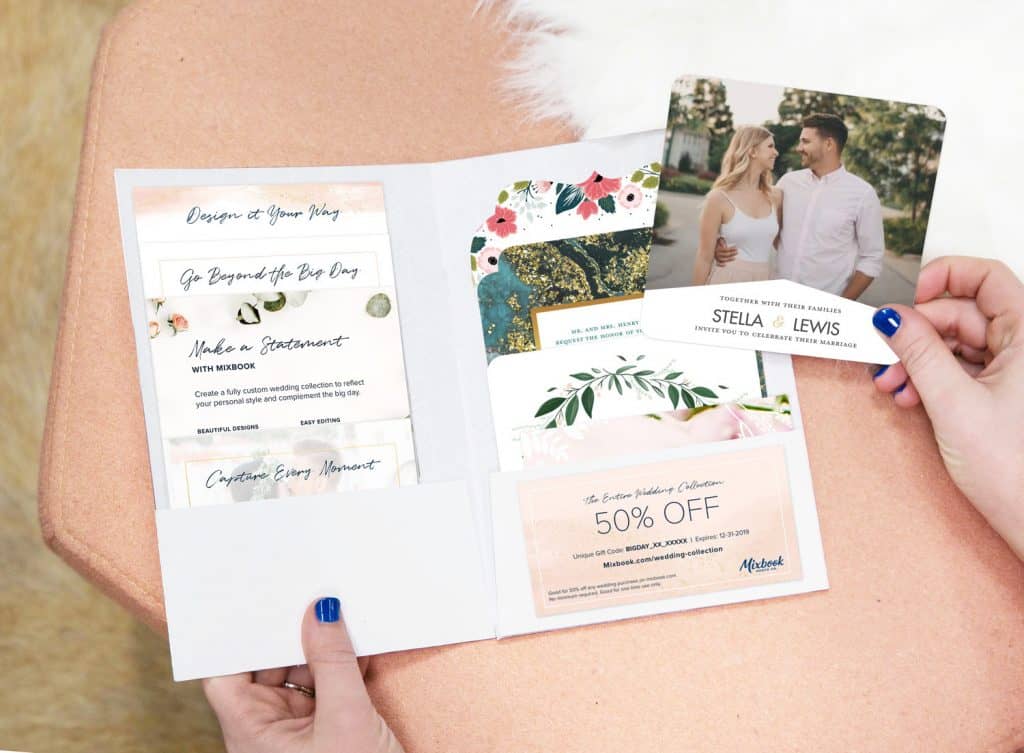 13. Fine Day Press
Last but certainly not least, sample Fine Day Press's modern invitations and wedding stationary, for free! Just fill out their quick form and select a specific sample. Or let them surprise you! Notably, these sample kits are free to customers in the United States.

Did you order your totally free wedding invitation samples yet? If not, what are you waiting for? These thirteen retailers offer (mostly) free samples for you to check out first-hand.