What is the best wedding website builder to use for your big day?
If you have been following along at Wedding Experience for awhile now, you know that we love taking your wedding digital. From some cool event planning apps to online invitations, online RSVPs to bachelor or bachelorette party planning tools, we think the ever-growing list of apps and sites designed to make wedding planning a breeze are awesome! That's why we thought now was the perfect time to take look at another great tool for any engaged couple to use as they dive into their wedding planning – a wedding website builder.
Before you grimace and say you have no technical skill of your own, don't worry! The best wedding website builder can do all of the work for you, letting you simply enter information or drag-and-drop images or boxes to make your own perfect wedding website. From free options to paid or premium, simple to complex, there are a number of great wedding website builders out there. So we decided to focus in on a few of our favorites to help you pick the best wedding website builder for your wedding.
Option 1: Wix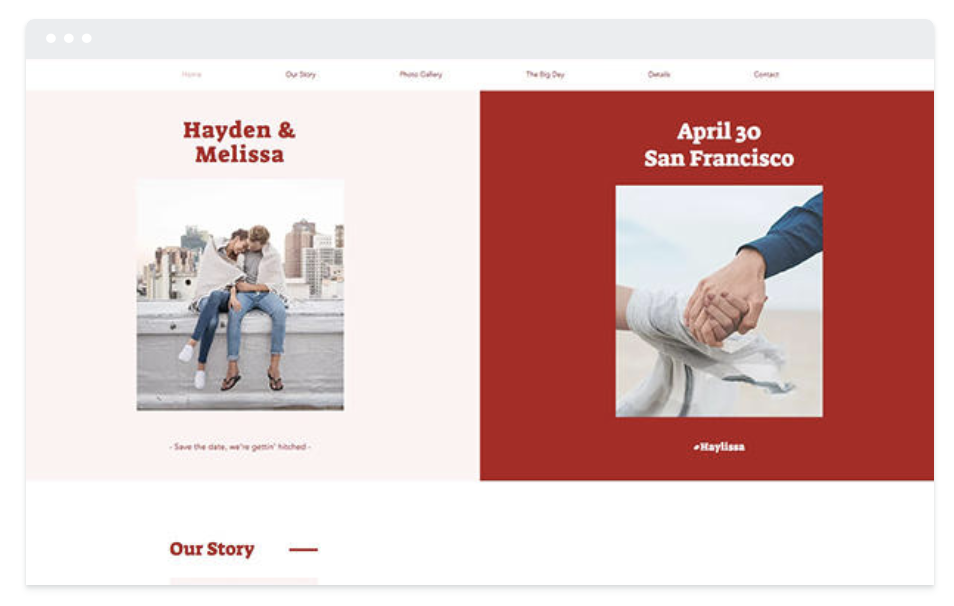 The name of the game with Wix is customization. While you may be a bit intimidated by all of the customization options that Wix offers, the sheer amount of tools you can add to a wedding website with Wix mean you can create a site that does everything from collect RSVPs (or allows you to embed an RSVP form), to mass messaging, to including custom videos or photo slideshows for your guests to see when visiting. Wix offers a free version with limited features, as well as a wide array of paid plans that you can choose from (although you will probably not need more than their basic paid package – most of the higher plans are for users creating corporate websites or online stores using the platform).
Here are some of the biggest upsides and potential drawbacks to using Wix for your wedding:
Positives
Endless customization and ability to bring in everything from social media to 3rd party online RSVP apps
Free option for basic wedding websites
Ability to purchase your own custom wedding domain if you want one
Make multiple versions of your wedding website for free to see which you like best
Pre-made templates designed specifically for weddings
Negatives
Limited bandwidth for free option, an issue if you are expecting a massive guest list (500+)
Customization options can be overwhelming if you are a novice to creating wedding websites
Custom domains only available through purchase or some of the paid packages
May be too complicated for tech-challenged guests to navigate as well
Option 2: Squarespace
Often seen as the main alternative to Wix, Squarespace offers many of the same options and features to couples, but there are some significant differences (both good and bad). While Squarespace does not offer any free package, the basic paid package is very affordable at $14.99 a month and offers anything you would need to create the best wedding website possible.
The other biggest advantage to Squarespace is that it is significantly easier for users who are new to website builders. While Wix may offer a wider range of options for customization, for anyone looking for a simple template that will look sleek and professional when finished, Squarespace takes away a lot of the guesswork that might overwhelm you with Wix. Here are some of the biggest advantages and disadvantages to using Squarespace as your wedding website builder:
Positives
Professionally designed pre-made templates that you can easily edit, making your final site look professionally designed
Basic premium paid package includes all the features you would need for a great wedding website
Pre-made wedding website templates that can be easily edited
Mobile editing also, letting you play around with your wedding website on the go
Negatives
No free option, meaning you will have to pay monthly for as long as you plan to use the service before your wedding itself
More limited on customization, especially with the pre-made templates, which can be frustrating if you prefer the ability to deconstruct or design your wedding website (especially if you have other website builder experience)
Integration with external wedding apps can be more difficult than with other wedding website builders
Option 3: RSVPify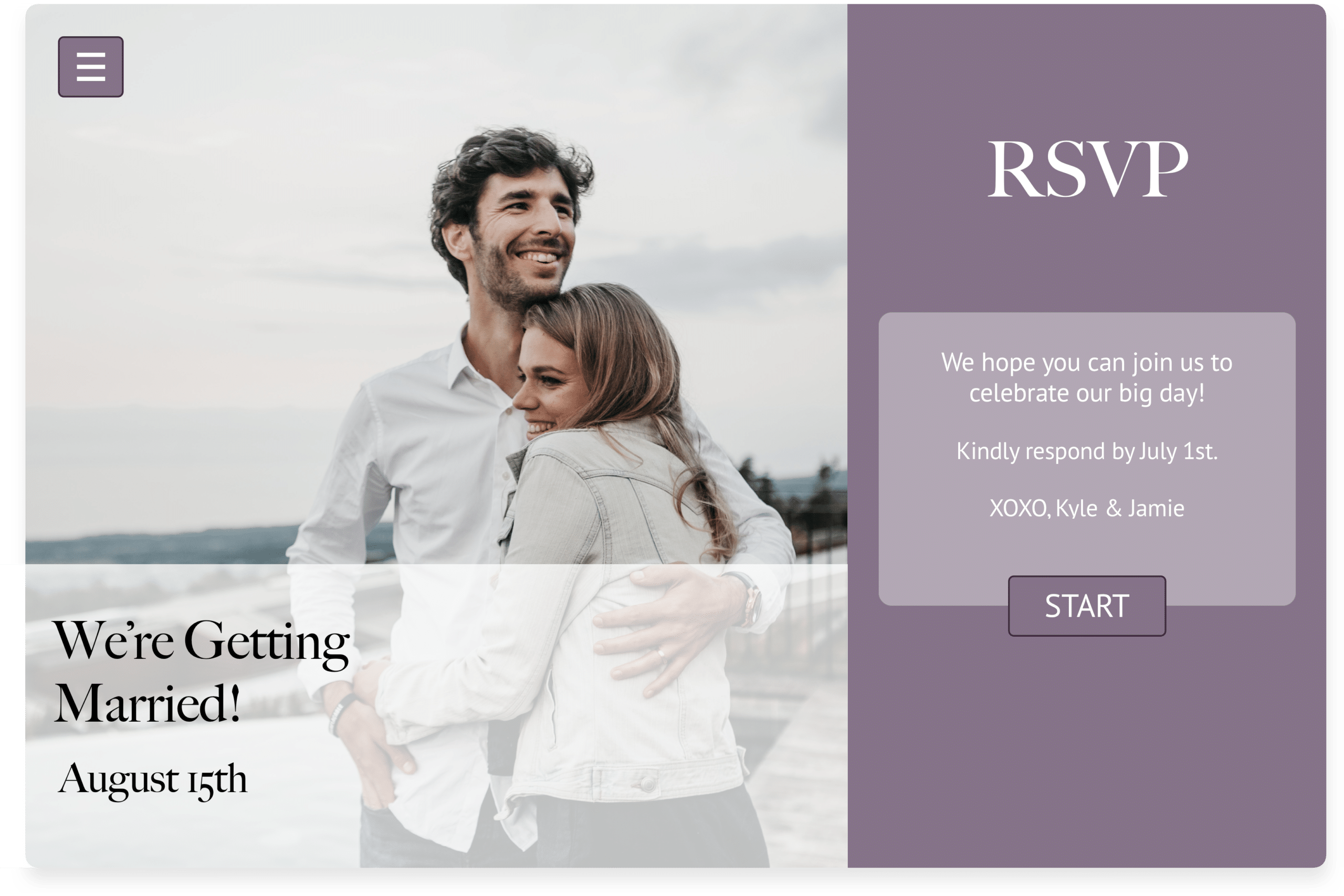 We have talked about how much we loved RSVPify before, but now the site that formerly dealt exclusively in guest list management, invitations, and RSVPs has now expanded into a premium wedding website builder. Maybe the biggest advantage of RSVPify over the other wedding website builders we listed here is that it is event-focused, as opposed to a general website builder platform. This means everything is designed with planning events in mind.
RSVPify offers a variety of free and paid options. However, the basic paid packages allow you access to all of the tools you need for a great wedding website. There is also easy integration with online invitations and online RSVPs. While Wix and Squarespace offer a broader array of customization, RSVPify gets the edge for the event-centric design and inclusion of features. Some of the positives and negatives of using RSVPify below:
Positives
The only website builder on this list that is focused primarily on event planning
Integration with existing online invitation and online RSVP tools makes it super easy for you to set up
Paid packages are similar in cost to Squarespace
Very easy to set up, manage, and edit, on mobile devices as well as at your desktop
If using an alternative website builder, you can embed your RSVP using embed code or the WordPress RSVP plugin
Negatives
No free wedding website builder option, so you will need to pay for your event
Less free-range customization than Squarespace or Wix, which can be frustrating for users with significant tech experience
Wondering how you should share the wedding website with your guests? Check out our guide to announcing your wedding website.