Weddings as we know them have come to a screeching halt. Thousands of weddings worldwide have been postponed. The couples who have decided not to prolong their big day have been forced to downsize their guest lists. We have talked about the micro wedding trend as one way couples are dealing with coronavirus. Another idea for a wedding in the coronavirus age is to host a virtual wedding by a live stream.
You can think of a virtual wedding as a temporary placeholder for the real thing. To us it sounds like a beautiful alternative to postponing or canceling! New York Governor announced on Twitter he issued an Executive Order allowing couples to be legally wed via video conferencing. Other states have followed suit to. And while you may end up having to postpone your wedding reception, you don't have to postpone your legal marriage. Here's how to design your virtual wedding (and actually love it):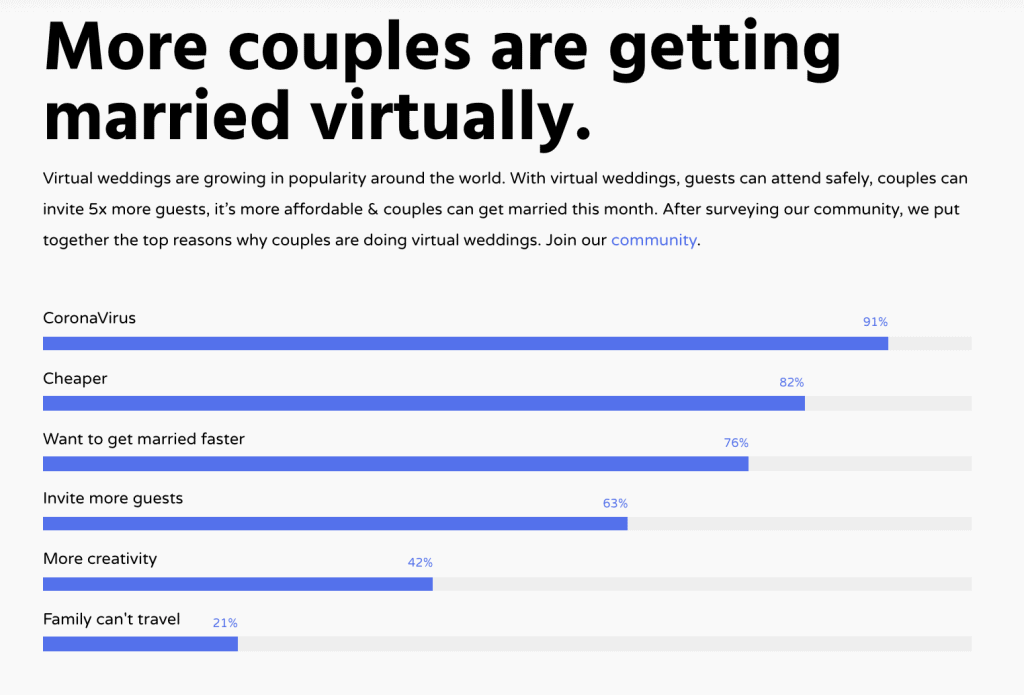 1. Check With Your Local Clerk's Office
Marriage laws vary from state to state and even more so now. Don't forget to check with your county's clerk's office to make sure they are handling the obtaining of their license properly. Be cautious and informed. There can be a lot of grey areas with the concept of virtual ceremonies. But once the legal part is taken care of, the fun part can begin!
2. Choose A Streaming Service
There is a variety of platforms that you can choose from – Zoom, Facebook Live, YouTube Live, Google Hangout, etc. Alternatively, companies like LoveStream make it super simple to stream your wedding. With a premium service like this, you can host personalized wedding website, have tech support to ensure everything goes smoothly, and your guests will have one-click access into the stream — no downloading an app or signing in necessary!
Use promo code WEDEXP to save 10% off your LoveStream virtual wedding!
If you choose something like a Zoom Meeting, your attendees can set up the Speaker View so they can see your ceremony, and you (the couple) can set the Gallery View so you can see all your guests' reactions. Your officiant could also be virtual (although this may not meet the legal requirements in all states). You can have your photographer on-site and designate one guest to take screenshots of the attendees' reactions throughout the ceremony.
3. Organize the Necessary Tech Gear
At minimum, you will need a laptop, tablet, or phone with the camera. If you are using a tablet or a phone, you might want to get a tripod to mount the device for steady viewing. When you decide on the technology you are going to use, take it for a test run on platform(s) you intend to use to ensure the quality is going to be on point.
4. Select your Virtual Wedding Vendors
When organizing a virtual wedding you don't have to worry about rentals or catering but there are still a few vendors that can come at hand – for one, a photographer. You want someone that is going to capture the emotions on your face and they definitely can do that while maintaining social distance.
Another important vendor is your baker. Even though your wedding is a virtual one you can still find a way to eat delicacies and enjoy the sweetness. Let your baker know you only need the cake for the two of you (instead of 50+ people) and don't worry about the rest.
Besides you and your partner, the officiant is probably the most important person at your wedding. They can join you in person (at the safe distance) or lead the ceremony online (check with your local officials for more information on this one).
You may also consider a few decorations like an arch or backdrop to set the stage for your virtual wedding ceremony!
5. Invite the Guests
Since you're hosting a virtual wedding you can go down the digital route with your invitations, too. There is plenty of companies that deliver elegant electronic invitations. Date, time, and the meeting link are three things you must include in your invitation. Or consider providing the physical wedding invitation, but perhaps opt for an online RSVP for simplicity and an easy way to update your guests.
Remember, your wedding guests may not be as tech-savvy. Make sure include fairly detailed instructions on how to join your live stream. Ask them to remain muted during the ceremony. And, since someone will be taking screenshots of them, ask them to get a little dolled-up for your event. You can ask the guests for their favorite songs so you all can have a dance party. And include a timeline so they know when to pop the bubbly and open the snacks.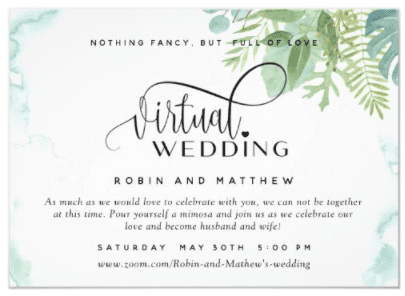 6. Rehearse
Make sure your technology and devices are working properly, test your WiFi connection and ensure the lighting is on point. Set the camera angles so they are picking the right moments. Add the decorations and set the scene. You may want to consider setting a trusted friend or a family member to be in charge of the technology. This way, you can relax and not worry about it.
On top of technology, you'll also want to check your lighting! Natural light is most ideal and will look best. But, be careful not to stand directly in front of the window which will make it hard to see you.
7. Get Dressed Up
You may want to wear THE dress. Or, choose something a little bit more casual. Whatever is the case, your style doesn't have to suffer even if you are having a virtual wedding. You and your partner are the stars of this show, so the decision is all yours.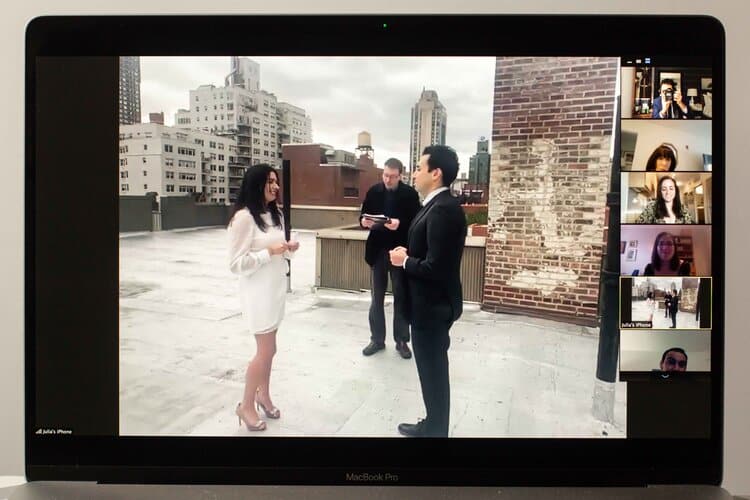 8. Run The Ceremony
The only thing left to do is say your "I do's" in front of your loved ones. Cut the cake. Dance with your partner. Pop the champagne. You probably didn't imagine your wedding to be a virtual one. But you still get to celebrate your big day with people that care greatly about you.
We know these are uncertain times and lives have been changed ever since the pandemic started. Couples are now opting for streamed ceremonies with the plans of hosting vow renewal ceremonies, receptions or celebration parties after the uncertainty passes. This means you can have a virtual ceremony today and your dream wedding later. You get to marry your favorite person twice and you have two anniversaries to celebrate – not many couples can say the same.