The micro wedding trend started gaining traction years ago, but the current pandemic is bringing it to the forefront of the wedding industry.
During these uncertain times, couples have been forced to change the date of their big day, and possibly the nuptials they have planned. While big wedding parties still not allowed in most places, vendors are planning new protocols and couples look to a new trend: micro weddings. As the name suggests, a micro wedding commonly includes a guest list of up to 50 guests (immediate family and close friends only), but it contains all the elements of a traditional wedding. These smaller-scale celebrations are considered a kind of compromise between an elopement and a traditional wedding.
The more intimate and affordable ceremony is a chic way couples have been dealing the coronavirus' impact on their big day. The focus is on the details and the love between the couple. By resizing the guest lists, couples can focus on creating unforgettable experiences for their nearest and dearest.
The Pros
You get to enjoy a more relaxed day. Planing the event with 100+ guests can be really stressful. From tracking RSVPs, planning seating arrangements, and juggling multiple suppliers to navigating through the needs of your guests, the pressure can easily become too much to handle. A small wedding takes tge pressure off. Further, it brings you back to the most important things for your wedding: the people you love being by your side and the experience you want to create for yourselves and your guests.
You get to save money. Naturally, downsizing your guest list lowers the costs. With less guests, really great hospitality in a beautiful setting can be affordable. A micro wedding can bring the cost per head up, but the overall cost goes down.
It's easy to personalize. A micro wedding will typically have a ceremony and a reception. But, that can take any form the couple likes. You can express your creativity by giving everyone goodie bags with party favors from your favorite local shops, or creating wedding weekend welcome baskets with special notes to each guest coming in from out of town. The same thing would be hard to recreate for 100+ people.
Spending more time with guests. A smaller number of guests means you can interact with each and every guest.
No time restrictions. Finally, a small number of people can provide flexibility in time and place for getting married. Getting married on a weekday is easier for a smaller event.
we've got you covered with over 160 micro wedding and mini celebration ideas for your blanc event! see what ideas we are digging in this 2020 wedding climate. https://t.co/BUVjWQdR5H#2020wedding #microweddingideas #microwedding #socialdistancewedding #socialdistanceevent pic.twitter.com/n3etU1BXRZ

— blanc (@blancdenver) June 5, 2020
The Cons
The biggest disadvantage (for some) of a micro wedding is a short guest list. Some people might feel hurt by your decision to not invite them to your big day. The hard feelings that might occur should absolutely not stop you from having a small ceremony. But, is something to be aware of. You have to be confident in your decision to (not) invite someone otherwise you might feel guilty about people who are upset by your decision.
Another thing to think about is that you can not invite everyone you want. Typically, the list is limited to close family and friends so your sorority sisters or your coworkers might not make it there. You may get heartbroken about some of the people missing, but the benefit is that you will get to spend quality time with each guest that is there with you.
Micro Wedding Packages
Vendors and venues have began offering micro wedding packages as solutions for couples to make streamlining planning even simpler. These packages will typically include the same elements of a 'regular' wedding but on a smaller scale. Plus, they can usually be tailor-made for the couple's budget, style, and guest-list size.
These micro wedding packages are created to streamline the planning process. Think of it as the wedding version of an all-inclusive resort. They include all the things you need to get married and make your day feel more special.
Micro Wedding Venues
Where should you have your micro wedding? Well, traditional wedding venues might not make much logistical or financial sense for a micro wedding. Fortunately, there are tons of affordable and unique venue options for small weddings. For extra savings, consider planning your wedding on a weekday or during an off-season.
Non-Traditional Venue Ideas Perfect For Small Weddings:
Rental property or Airnb (make sure to ok this with your host!)
Restaurant
Brewery or Winery
Local park or garden
Mountain top
Cafe
Small concert venue or theatre
Museum
Art Gallery
Backyard
Campground
On a boat/yacht
Zoo or aquarium
Greenhouse
Rooftop Terrace
Beach
Library
Orchard
Historic Site
Community Center
Find a place to get married that is as unique as you are! Consider sentimental places like where you first met or had your first date. Given the smaller celebration, it is more likely these places of special significance can accommodate you.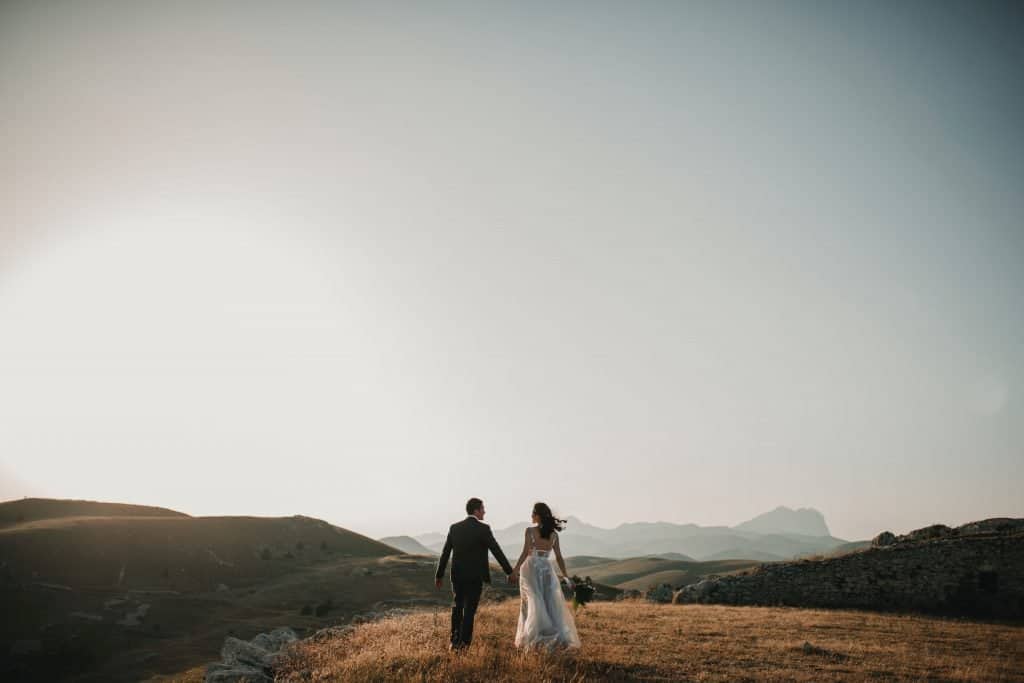 Final Thoughts
Similar to the traditional wedding ceremony, a micro wedding is a celebration of love, an outlet of joy, and focused on your happiness. It's perfect for the couples that want to have their tiny cake and eat it with those they care about most. Not every couple wants to have a huge celebration with all the grand details. Micro weddings are a perfect fit for those who do not want to elope but also do not want to throw a big-style party.