Yes! You can rent wedding flowers to save money for your wedding. Here's what you need to know.
Anyone that has ever planned the wedding can tell you one thing: weddings are expensive. Like, really expensive. The idea of having fabulous wedding while staying within the budget may seem daunting. Fortunately, there are a number of great tips and tickets for staying on budget. In our last post we talked about renting wedding dresses. Though it may save money, wedding dress rentals can be tough. Today, we're writing this article to introduce you to one of our favorite wedding budget hacks: wedding flower rentals.
Most wedding planners recommend setting aside 10 percent of your overall wedding budget for flowers. The average amount most couples spend on their floral budget is around $3500. This price includes boutonnieres, bouquets, corsages, ceremony decorations, table centerpieces, reception decorations, flower child and ring bearer flowers, and petals. Costs will vary based on a number of factors, such as whether the flowers you want are in season.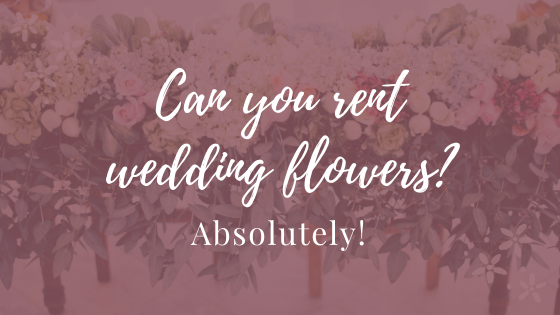 With the help of some savvy wedding vendors, you can now avoid purchasing your floral arrangements. These companies allow you to rent faux flower arrangements for your wedding. These high-quality silk flowers are absolutely loved by brides and wedding guests alike. Who wouldn't want to save money and still be able to create the stunning look they have always fantasied about?
How does renting wedding flowers work?
Wedding flowers are an important part of your wedding decorations. While each vendor will be a little different, the core idea is the same. First, the couples select the flowers they want and place an order. Next, the florals are mailed a few days prior to the wedding day. Then, after getting married the happy couples ship the flowers back!
The best thing about ordering premium silk florals is their flawless quality! Your guests will not be able to tell you're using faux flowers. Plus, the only requirement for you is to keep the flowers away from water and open flame. And, you don't even need to worry about watering them or them wilting away. Customers are advised to order flowers 3-6 months prior to the wedding day to ensure the availability of the products they want.
Where to rent wedding flowers?
Shipping: Nationwide throughout the United States and Canada, with the exception of Hawaii.
Cousins Lauren and Laken wanted to help brides have the wedding flowers of their dreams without breaking the budget or sacrificing the honeymoon. So, they created Something Borrowed Blossoms! They are constantly expanding their gorgeous collections and product selection. To see a sample in person, you can order a bridesmaid bouquet from any collection.
Shipping: Nationwide throughout the United States (and local pickup in South Caroline)
Wedding Flowers For Rent has stunning floral collections for you to choose from and order online. Their catalog includes everything you could dream of, and at a major discount! From the bridal bouquet to centerpieces, to garlands and dog collars, you can find all you need for rent or purchase. Plus, they provide a complimentary toss bouquet with orders over $150.
Are there any cons with renting wedding flowers?
As with all your wedding decisions, there are pros and cons. While there are a lot of pros to renting your wedding flowers, there are certainly disadvantages too. Here are some potential downfalls you'll want to consider:
1. Less Customization
Unlike when you purchase your flowers, with floral rentals you have little to no control of specific customizations. You can't swap out a specific flower you may not love for example. Or even change out the vase for a centerpiece in some cases.
2. You Have To Give Them Back!
Sounds obvious, but the fact that you don't get to keep your blooms is something to really think about. That said, the above stores do all offer purchase options should you decide you don't want to part with your bridal bouquet!
3. Returning On Time
Not only do you have to return your gorgeous arrangements, but you'll have a window of time to do so. This is something you'll have to think about post-wedding, or assign a family member of friend to take care of for you. And you'll want to ensure they are returned on time to prevent additional fees!
4. They're Not Real
As realistic as they may look, floral rentals aren't real flowers. If you're looking for the real thing, renting isn't going to be the best option for you! For a budget-friendly away to have real flowers, consider purchasing stems in bulk and DIY'ing your own arrangements!
Should you rent flowers for your wedding?
Why not?! At the end of the day, no one cares if the flowers were real or fake. Floral rentals look great in photos, and make the delivery process easy. The flowers you have always wanted to have are available to you for only a fraction of the price. Your bank account will be happy and you get to keep your sanity. Sounds good enough to us!