RING BEAR answers your questions on who buys his wedding band, what styles and materials are available when you should buy his wedding band, and more.
Finding the right men's wedding band is a chance for couples to collaborate during the wedding planning process and also get excited about what the future has in store. Although the bride's engagement ring gets a lot of deserved focus, picking out a groom's wedding band is an exciting step during the wedding planning process and is a special way to celebrate him.
A quick history of wedding bands
The tradition around men's wedding rings goes back to WW2 when soldiers started wearing gold wedding bands to remind them of who they were fighting for and what was waiting for them back home. Back then the standard width was around 4.5mm. Later in the 20th century, American men gravitated towards the 6mm width. Meanwhile, in Europe, the trend went in the opposite direction towards 3mm. While the traditional style is still popular, men today have awesome alternatives to best suit their personal taste and lifestyle.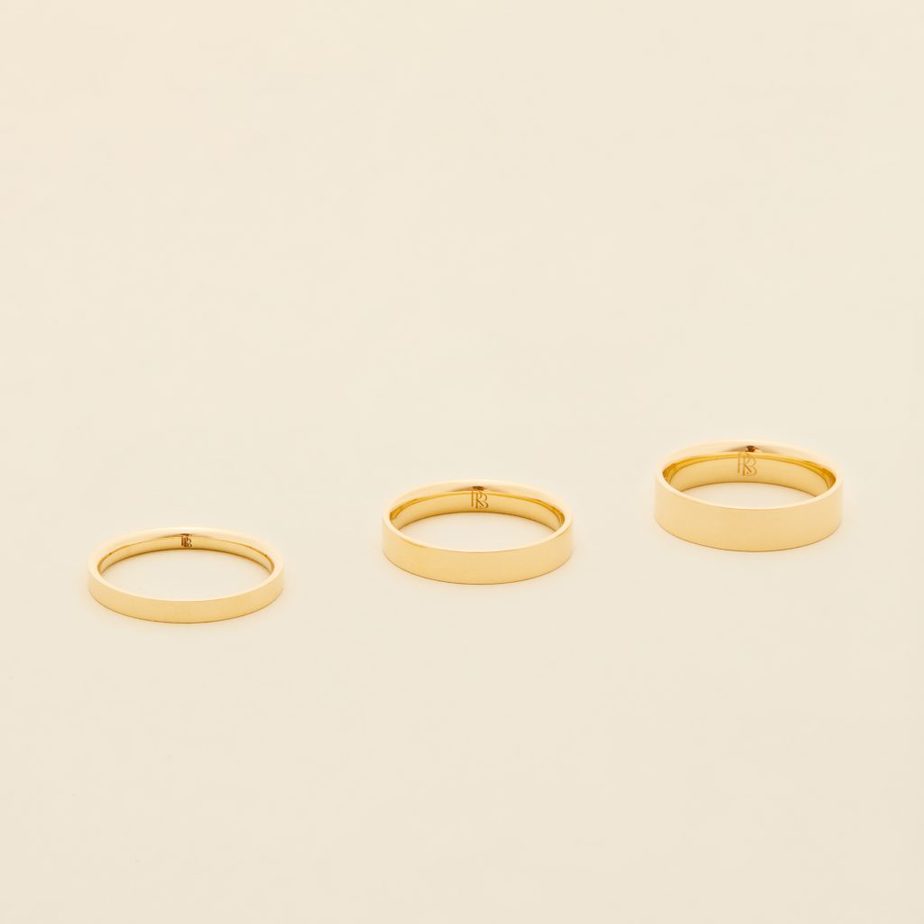 Who Buys The Ring?
Often, the bride buys the groom's wedding band to reciprocate after receiving an engagement ring. Some partners even go an extra step and plan a thoughtful surprise to gift his ring to create a moment around seeing him try on the ring for the first time. That being said, it's very common for guys to know what they want and then pick it out themselves.
Should the Men's Wedding Band match their partner's engagement ring?
On the day of the wedding, it can be a really nice aesthetic for couples to have the same material or colored rings as it symbolizes their shared union. However, after the big day, it becomes less important. Commonly couples will end up selecting a wedding band for their groom that best compliments his style and complexion.
What are the popular styles offered?
There are great options for a men's wedding band to choose from without being overwhelming. Men's wedding bands are no longer one style fits all & the decision really depends on a groom's personal style and preference. Yellow gold will always be the iconic, heritage look, whereas white gold has really caught on recently. Platinum is the top-of-the-line option, and tungsten is a newer offering that is often more affordable.
What are the popular materials offered?
24K refers to 100% gold but it is too soft for Men's Wedding Bands. Therefore metal alloys are fused with recycled gold to create jewelry that will last.
18K Gold (75% Gold) – Our most valuable option but a little soft, we advise 18K if you're not doing consistent manual labor
14K Gold (58% Gold) – The Goldilocks, our recommended option
10K Gold (41% Gold) – The most durable gold option, a great alternative to Tungsten
Platinum – A durable and hypoallergenic precious metal, serving as a firmer alternative to 18K White Gold. With its various industrial applications, the value of Platinum has increased in recent years
Tungsten – An alternative metal, Tungsten is highly durable which has contributed to its recent popularity but does not hold the same value and thus is more affordable. With Tungsten we are able to incorporate materials like Wood & Carbon Fiber as well as new colors like Black.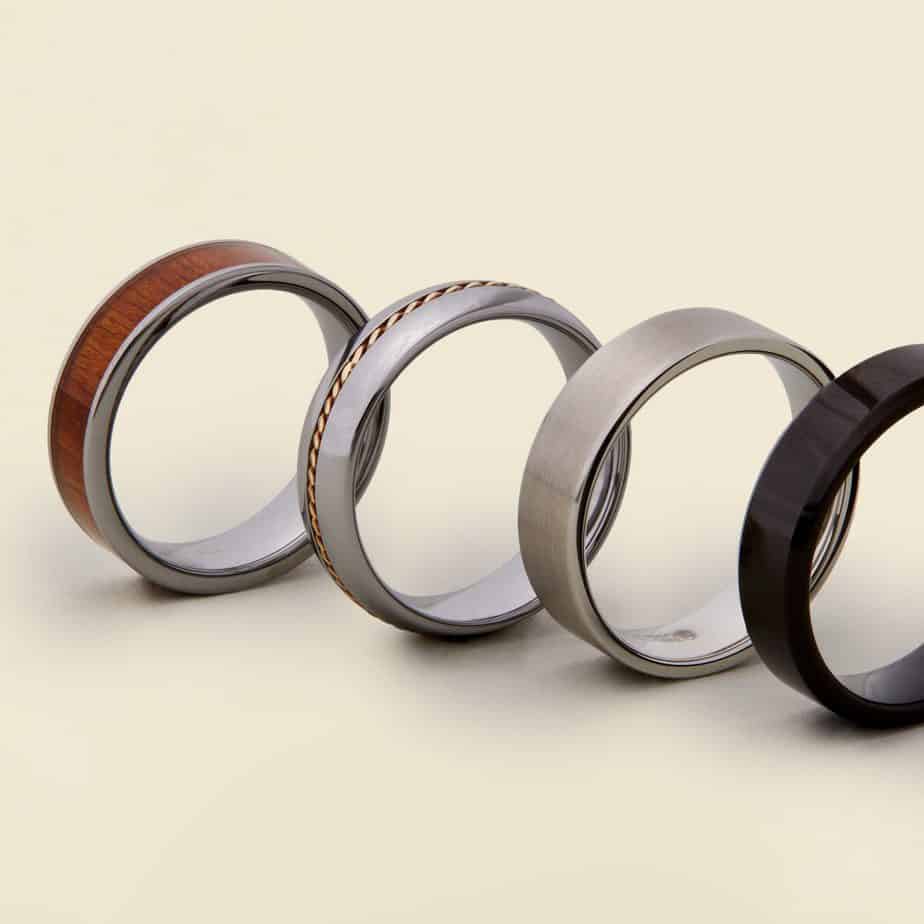 Should he take his ring off?
If purchasing an 18K gold wedding band and wanting to play it safe, consider taking the ring off when doing manual labor like home improvement or going to the dym. Platinum, Tungsten, 14K Gold, and 10K Gold are more than durable enough for normal wear.
What is the average cost?
Depending on the type of metal you choose, the price of a men's wedding band can vary. There really are phenomenal options at every price point. The average for a tungsten band is $200-300. Gold is $350-1,000 depending on the karat. Platinum can be found at $700-1,200.
When should couples purchase his wedding band?
Picking out a groom's wedding band is an important purchase as couples plan for their wedding day and beyond. Take the time to make the process about him. It's never too early to start shopping, but in reality, three to six months before the big day allows for plenty of time to learn his size and preferences. In order to make sure the men's wedding band is ready for the wedding day, try to purchase his wedding band two months before the wedding in case it needs to be resized.
If your groom is having hesitations about wearing a ring, consider investing in a "comfort fit" band. These bands tend to be a little pricier since they require more material aka more gold. But, they're easier to slip over the knuckle and don't pinch the skin. (All RING BEAR men's wedding rings are specifically designed with our Superior Comfort Fit™). For many guys wearing a ring is new to them. But if the band fits great and is comfortable, he'll quickly get used to having it on all the time. Whether you're after a traditional look or something as unique as your relationship, there's a men's wedding band option out there perfect for every groom. You can see RING BEAR's entire assortment here.
This post contains affiliate links.