When it come to registering for your wedding, it can be hard to know where to begin! There are so many store registries to choose from. While registering may seem fun and exciting at first, it can quickly become overwhelming. One way to simplify? Just head to Amazon. Let's talk about why this retail giant has become increasingly popular for couples getting married. Today we are answering all your Amazon wedding registry frequently asked questions.
Does amazon have wedding registry?
Yes, Amazon offers a wedding registry. This has become a popular option for couples for a number of reasons. Firstly, nearly everyone has an Amazon account, making it easy for guests to purchase gifts. They don't need to pull out their credit card since it is already saved to their account. Their also familiar with the interface, so shopping for your gifts is super easy!
Secondly, Amazon has pretty much everything you could ever want to add to your registry. From your kitchen essentials to more fun registry items, Amazon is a great one stop shop for your registry.
Is the amazon wedding registry free?
Yes! Creating a registry on Amazon is totally free. Plus, you'll get a completion discount after your big day!
How does it work?
Adding gifts to your registry is as easy as shopping on Amazon. That said, they offer a nice onboarding tutorial when you get started! You can add any items from Amazon, but they also have curated lists of popular registry items to help get you started.
How to find my Amazon Wedding Registry link
Finding your link to share is super easy, just locate the share option on the top right of the screen. There you can copy your link to add to your wedding website or share with guests.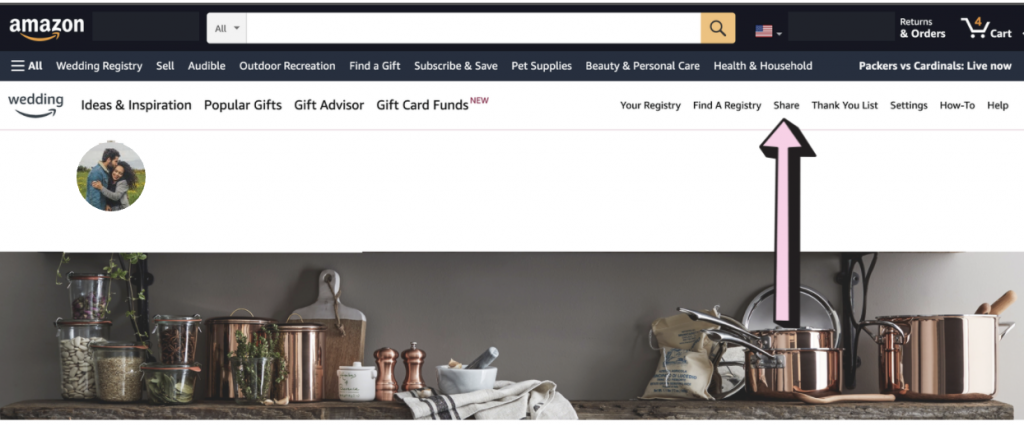 Do gifts from the registry ship straight to the couple?
They can! When your guests check out, they will have the option to send the gift to you, or to themselves. Many times guests will send the gift to themselves for events like showers, and straight to you for a wedding gift. But, the choice is up to them.
When do Amazon registry items ship?
Shipping times work just like any purchase you would make from Amazon and vary by a few factors:
Prime Membership: If your guests have an Amazon Prime membership, eligible items marked with the Prime logo can benefit from expedited shipping options, including free two-day shipping or even faster delivery in some areas.
Availability: The availability of the specific items you've added to your registry can impact the shipping time. If the items are in stock and readily available, they can typically be shipped within a few days.
Shipping Method: Amazon offers various shipping options, including standard shipping, expedited shipping, and even same-day or next-day delivery for eligible items. The shipping method you choose at checkout can affect the delivery timeframe.
Location: The shipping time may also depend on your location. Amazon has fulfillment centers in different regions, and the proximity of these centers to your location can impact the shipping duration.
Seller Location: In some cases, items listed on your Amazon wedding registry may be fulfilled by third-party sellers. The shipping time for these items can vary based on the seller's location and their specific shipping policies.
Amazon Wedding Registry – Closing Thoughts
Amazon is a great choice if you are feeling overwhelmed by creating your registry. It's easy for couples and their guests to use, and their curated lists help narrow down the huge selection of gifts that you can add. But, the world is your oyster and you can register for pretty much anything on Amazon.
This post contains affiliate links.
Featured image: Le Creuset dutch ovens are a popular wedding registry item, add one to your Amazon registry!