Featured Image: Digital Template Dusty Blue Watercolor Floral Crest Wedding Invitation & RSVP Card BY WILDPETROVA
If you're engaged and exploring Pinterest, you may have noticed a dominant trend in wedding invitations right now: watercolor. While trendy, watercolor wedding invitations have a timeless feel. One of the most popular invitation suite designs includes custom wedding venue illustrations.
The problem is that these works of art can understandably get quite expensive. Artists take time to create the perfect watercolor rendition of your artwork. The illustration alone tends to run $350+ on Etsy. And that will include the actual cost of your invitation suite.
So how can you get the expensive watercolor invitation look, but at a more affordable price? Here are 3 ways you can get the custom look, without the price!
Fiverr Watercolor Wedding Designers
For a custom illustration at a more affordable price, try Fiverr. You can find amazing artists who will illustrate your venue, watercolor monogram, or any other design you can dream up! Here are a few favorites:
Zazzle Customizable Invitations
If you are open to something that may not be completely custom but still gives that luxurious watercolor look, try Zazzle! You can find gorgeous invitations for a number of destinations, or just the general aesthetic of your wedding.
For gorgeous landscape watercolor invites, try UnmeasuredEvent. From the Las Vegas Strip to Zion National Park, they offer wedding invites that everyone will think were custom made for you!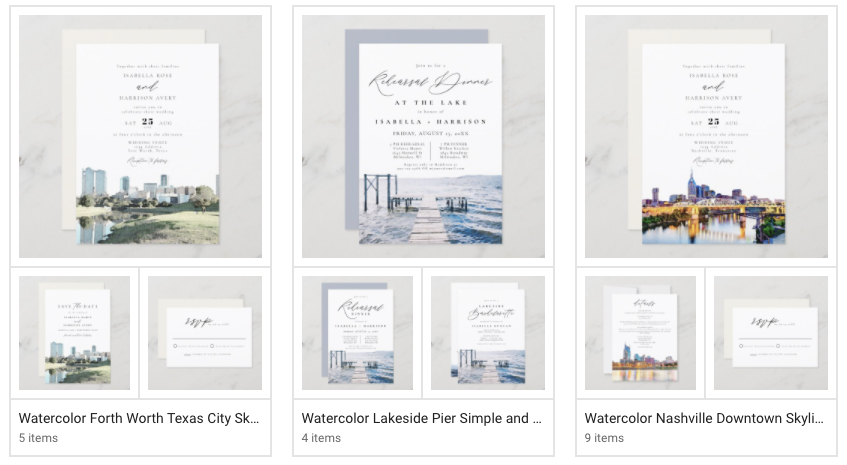 If you're getting married in the mountains, IYHTVDesigns might be the right Zazzle designer. That said, the designs aren't limit to rustic mountain scenes, so check them out for a huge selection of custom appearing invitations.

Etsy
While we may have 'called out' Etsy earlier in this post, you can still find some really great options here! Here's some tips for using Etsy for custom wedding invites:
Find designers that will provide you with the digital file so you can print your invites on your own
Look for 'semi custom' options
If you find a shop or design you love but they don't offer something like this, reach out to the shop!
Custom wedding invites are dreamy, but can feel out of reach when you see the associated costs. We hope this guide helps you find your dream invitation suite within budget!

This post contains affiliate links.