This post contains affiliate links and Wedding-Experience will be compensated if you make a purchase after clicking on an affiliate link (at no additional cost to you).
---
Your wedding guestbook, often overlooked amidst the hustle and bustle of venue selections and floral arrangements, deserves its moment in the spotlight. It's the keepsake that captures the well-wishes, love, and memories of your cherished guests, making it an integral part of your big day. In this blog post, we're delighted to explore a treasure trove of unique guestbook ideas that go beyond the traditional book with signatures. Whatever your vision or wedding style, we've got creative concepts that will leave your guests delighted and your memories creatively captured. So, let's dive into these inventive guestbook ideas that will make your wedding day truly unforgettable!
Video Guestbook:
Since the age of smartphones and social media, capturing video messages from guests has been so much easier. A video guestbook gives a voice to the signatures, allowing loved ones to express their emotions and share heartfelt messages. From funny anecdotes to warm wishes, each video becomes a precious treasure that can be revisited on anniversaries or during quiet moments of reflection.
Watching these messages brings back the sights and sounds of the event, making you feel surrounded by the love and support of those who were there to celebrate with you.
Today, with advanced video-making tools, you can create a professional video guestbook without having to go through the effort. You can also add on special effects like your favorite instrumental piece, wedding photographs and so on; making the video guestbook even more personalized!
Audio Guestbook:
An audio guest books bring an enchanting twist to the traditional concept by allowing your guests to leave heartfelt messages, laughter, and words of wisdom in their own voices. Set up a designated recording station with a microphone and simple instructions, inviting your loved ones to share their thoughts, well-wishes, and advice. You can DIY the setup, or check out companies like At the Beep that will help do the legwork!
This unique guestbook idea captures the authentic and emotional essence of your wedding day, enabling you to relive the joyous moments through the spoken words of those who matter most. As you listen to these heartfelt recordings in the years to come, you'll be transported back to the magic of your wedding day, hearing the love and happiness in the voices of those who celebrated your union. It's a truly immersive and unforgettable way to cherish the precious sentiments of your special day.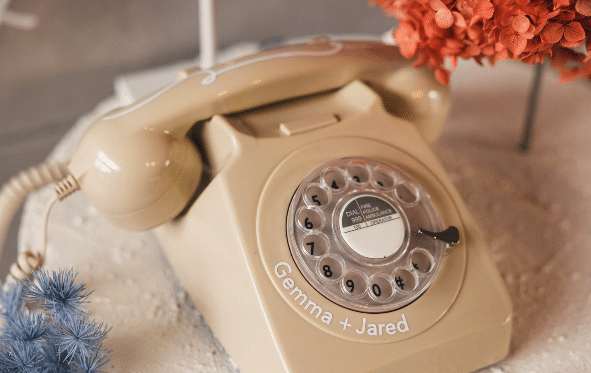 Vinyl Record Guestbook:
For couples with a deep appreciation for music, the vinyl record guestbook is a delightful choice. Picture the romance of inviting your guests to sign their names or inscribe heartfelt messages on the labels of vintage vinyl records. These unique keepsakes can be displayed as wall art in your home, transforming your cherished messages into a visual and auditory masterpiece that tells the story of your special day. You can even use these records to create a personalized playlist for your future date nights, ensuring that the music that marked the beginning of your journey together continues to serenade your hearts. Each time you hear the familiar crackle of the needle touching the grooves, you'll be transported back to that beautiful moment when you were surrounded by friends and family, celebrating the union of your souls through music and love.
Signing an instrument such as a guitar makes for another fun and unique guest book idea for the music-loving couple.
A Custom Deck Of Cards:
For those who love a good card game, here's a unique and entertaining twist on the traditional guestbook: a custom deck of cards. These beautifully customizable cards offer a playful and interactive way for your guests to leave their mark on your special day. Each card features a designated space for a guest message, creating a deck filled with personalized sentiments from your loved ones. Imagine shuffling the deck on a cozy evening at home and discovering heartfelt messages, funny anecdotes, and warm wishes from your wedding day. Whether you use them for game nights with friends or as a charming addition to your coffee table, these cards become a cherished memento that brings smiles and memories long after the wedding day. It's a delightful way to infuse a touch of fun and personalization into your celebration, reminding you that love and laughter are always in the cards for your journey together.
A Piece Of Artwork:
Find a piece of artwork that resonates with you as a couple, perhaps a painting, a vintage map of a significant location, or an illustration that captures your shared interests. Have it meticulously printed on a high-quality canvas or poster large enough to allow ample space for your guests to sign, leave messages, or even add their own artistic touches.
This unique guestbook becomes a living masterpiece, not just a static book, showcasing the fusion of your shared love and your guests' contributions. Each signature and message becomes an integral part of the artwork, transforming it into a tangible symbol of the love and support you've received on your special day. Whether you choose to hang it prominently in your home, above your fireplace, or in a cozy corner, this personalized art piece will serve as a constant reminder of the beautiful moments and connections you've forged on your wedding day. It's a blend of creativity and sentimentality that elevates the traditional guestbook to a whole new level, making it a cherished and unique addition to your marital journey.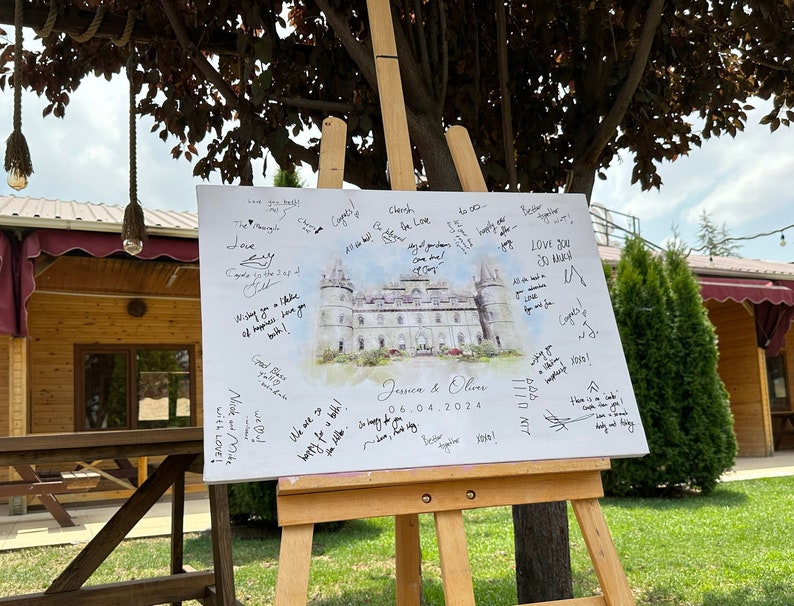 Whether it's the resonant voices captured in an audio guestbook, the melodies that echo from a vinyl record collection, or the well-wishes inked on an artistic canvas, each guestbook option we've explored here reflects the essence of your love story. We hope these unique guestbooks serve as timeless reminders of the love, laughter, and joy that surrounded you on your wedding day.