Coming up with ideas for your wedding hashtag can be quite a tough task. You'll probably want something unique and clever. Some couples try to come up with a pun that combines both of their names. Some want the hashtag to represent them as a couple. Sometimes it's too hard to do this on your own. But don't worry! We've tested out some great tools and compiled a list of the best wedding hashtag generators. These will generate several hashtags and leave it up to you to decide which one you want. The best thing about them – the majority of them are completely free!
The Best Free Wedding Hashtag Generators
Here are our two favorite, totally free wedding # generators.
The Wedding Wire Hashtag Generator seems to be the most reliable hashtag generator out there. The advanced algorithm produces more clever uses of alliteration and phrasing than some of the others we've seen. And, the information taken into consideration include the names of and nicknames of both partners, married name and details about the wedding location, date and venue. Without signing up, this generator provides three wedding hashtags for free. To see more ideas, you must create a free account. With a free account you can continue to generate ideas (4 at a time).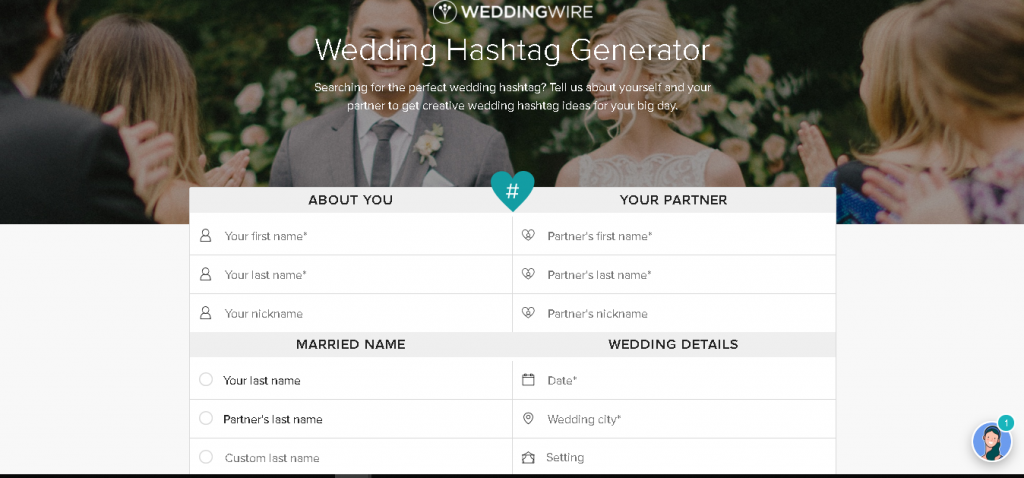 Next on our list is the wedding hashtag generator by Shutterfly. The algorithm creates a list of hashtags based on the names and nicknames, as well as the wedding date. It seems to be more casual and playful with certain suggestions (#OMG(Last name here) or #(Last name here)ForTheWin). So, it could be a perfect option for couples looking to keep up with the modern slang trends. Your list of hashtags is broken into groups based on the information it uses. Plus, you can easily click over to see if the hashtag to is already in use.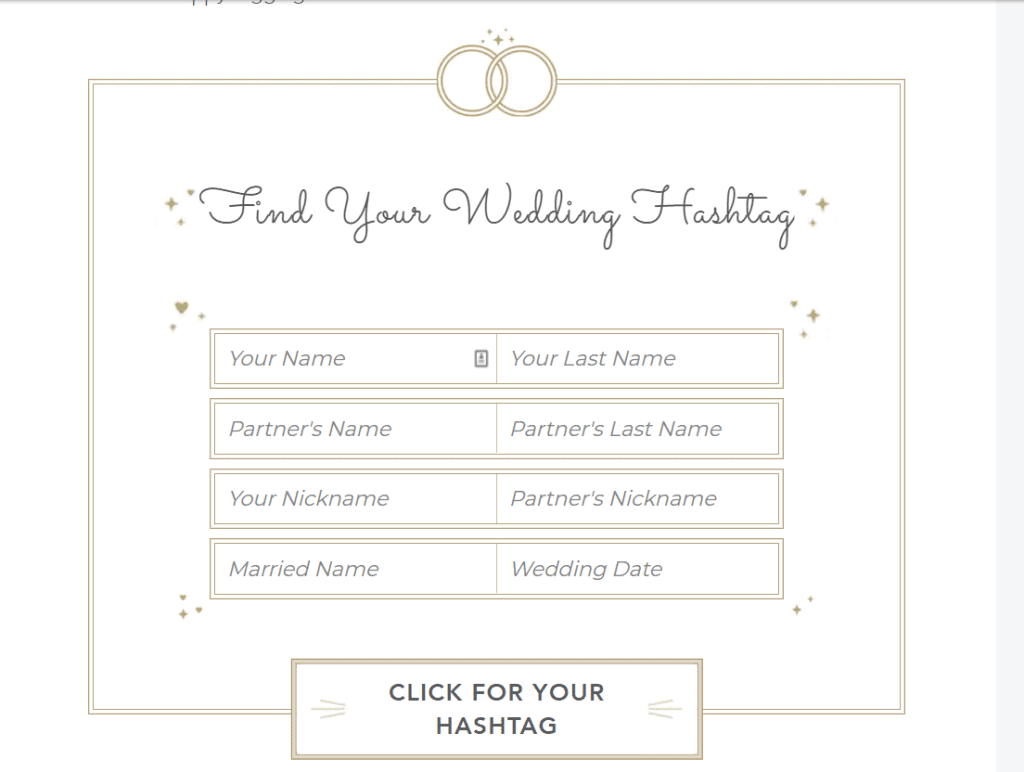 Other Free Wedding Hashtag Generators
These tools didn't make the top spots, but are worth checking out to help you create wedding hashtags free of charge!
This generator's list of suggested hashtags might be one of the longest – averaging at over 100 suggestions. Unfortunately, you can only view one at time. It offers simple suggestions based only on the couple's names. Or, you make your hashtag more personalized by clicking on the 'Make It More Unique' button. This allows you to add more details (nicknames, wedding date, the city/location, etc.). The more details you include, the more hashtags will be generated.
The Wedding Hashtag Generator lets you create your wedding hashtag with just some basic information about you and your partner. Just like the previous one, to create a more specific one, you will have to provide more details about your wedding day. After you provide the details, you'll be able to view each hashtag one at a time, with an option to share the link with your partner or your wedding party. However, even though there's a long list of hashtags, some of them may not make too much sense.
Past Book is another completely free wedding hashtag generator and it works like the rest of them. You can provide basic information for the hashtag to be generated, or you can add more details for the more unique one. You can add hashtags you like to the list and print them if you wish. However, the algorithm is not very creative, this tool will certainly give you ideas but don't expect anything hyper-creative.
This Random Word's Wedding Hashtag Generator is completely free. Plus, it has two options we haven't mentioned before! It lets you choose the tone of your hashtag (traditional, fun, or offbeat tone). And, the number of hashtags generated (the count goes up to 50). Creating hashtags with this generator is simple. You are asked to provide the names of both partners and the wedding date. Depending on the selected tone, the generator will use the provided details to create selected number of hashtags.
Wedding Mix offers a hashtag generator and checker for the price of nothing. You are asked to provide your and the name of your partner, and the wedding date. You can choose between three different types of hashtags: classic, fun and offbeat, depending on the type of wedding you are having. Hashtags are generated one at a time and if you see the one you like, you can check its availability as well as add it to the list which you can email to yourself (or anyone else) if you want. However, if you already have a hashtag idea in your mind, you can use their checker to see if another couple has already claimed it. Just type in your hashtag and you'll be able to see how many times has it been used on Twitter and Instagram.
Wedding Hashtag Wall is another (free) tool that generates plenty of hashtags divided into three categories: simple, advanced and hashtags in case you and your partner are joining last names. Enter the names and the date of your wedding and let the generator do its work. Once you have chosen your hashtag, this platform helps you create Instagram Wedding Sign.
Clever Wedding Hashtags From Professional Writers
Looking for a personalized service? Hire a writer to come up with a list of clever and unique wedding hashtags for you!
Happily Ever #Hashtagged is a paid online generator for customizable, creative and clever wedding hashtags (or other events). Pricing starts at $50 for one wedding hashtag. When you make the purchase, you'll be asked to fill out a form that asks for your name, your future spouse's name, the date of your event, and some information about you as a couple. If anything else is needed, you'll receive an email. After sending the information you'll have to wait for about 8 weeks to receive your hashtag. Although it may seem like a long period, the customers say it's worth the wait.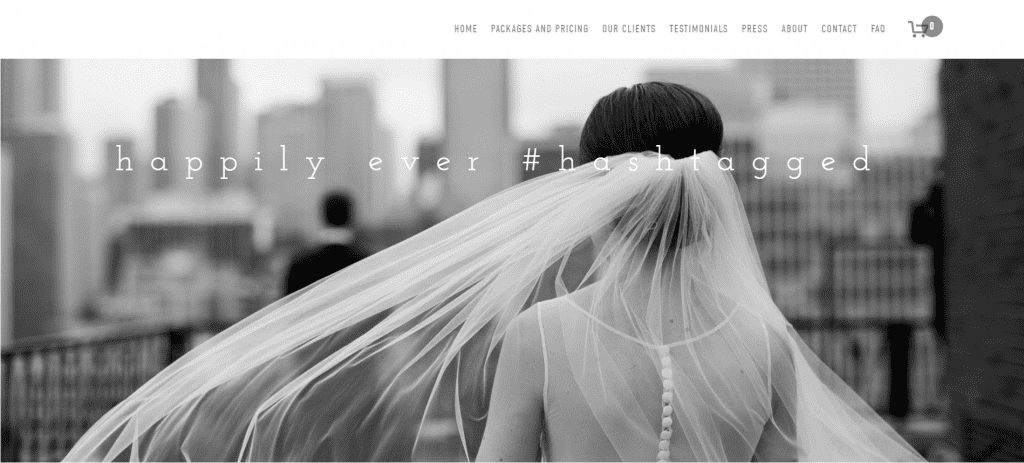 The Wedding Hashers is the largest network of professional wedding hashtag writers that give you amazing hashtags for your wedding (or any other event). The price is $20 for three hashtags and the turnaround time is super quick (24 hours on average). They ask for your names along with a bunch of optional details such as couple and wedding information. The more information you provide, the more customized hashtags you'll get back.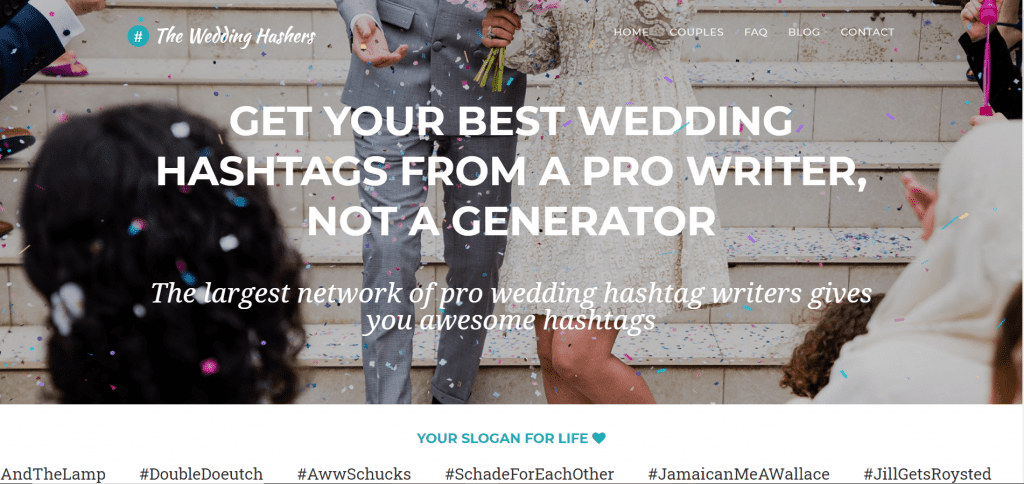 While not specifically a wedding hashtag tool, Fiverr is a notable service! Hire a writer starting at just $5 to generate ideas for you. Their creative writers will help you create a unique hashtag for the next-to-nothing price.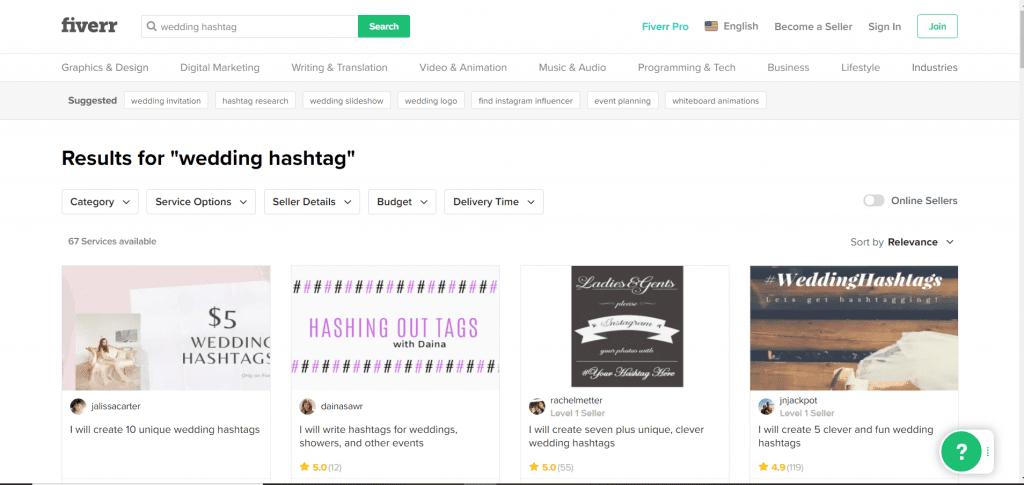 Over half of weddings now use their own hashtag. Hopefully, these tools help you to generate the perfect hashtag. And don't stress about how punny, clever or unique your hashtag is. The most important thing is capturing your memories – so be sure to also hire a great wedding photographer (or an elopement photographer if you're eloping!).