Gone are the days of stressful suit shopping experiences for grooms and their groomsmen. Poor fitted suits and rushing to return your suit rental the morning after the wedding are (finally) in the past, and a number of awesome companies have emerged to provide much better experiences. Whether your groomsmen will be in black tie tuxedos or more casual attire, these companies are saving hassle for the groomsmen for any type of wedding. Ready to get inspired by these groomsmen suit ideas?
4 Groomsmen Suit Ideas For Rental or Purchase
We've extensively researched the best groom and groomsmen suit providers and are thrilled to present you with our top picks. Hopefully, you find the perfect option for your big day! Hopefully these groomsmen suit ideas help you find the perfect attire!
"When it comes to the traditional brick-and-mortar, laminated-catalog, outdated-inventory, advertise-low-and-get-upsold-in-the-store tuxedo rental experience, we are seriously questioning the status quo. And you should too."
Let's kick off our list of groomsmen suit ideas with Generation Tux. Known for stylish suits and tuxedos delivered to your door, this company has a nice rental offering and some cool perks. No boxy, one-size fits all mentality here, as Generation Tux offers slim and modern fits within their line of 21 suit/tux styles.
Generation Tux Perks:
The Generation Tux Investment:
Groomsmen Suit rentals starting at $109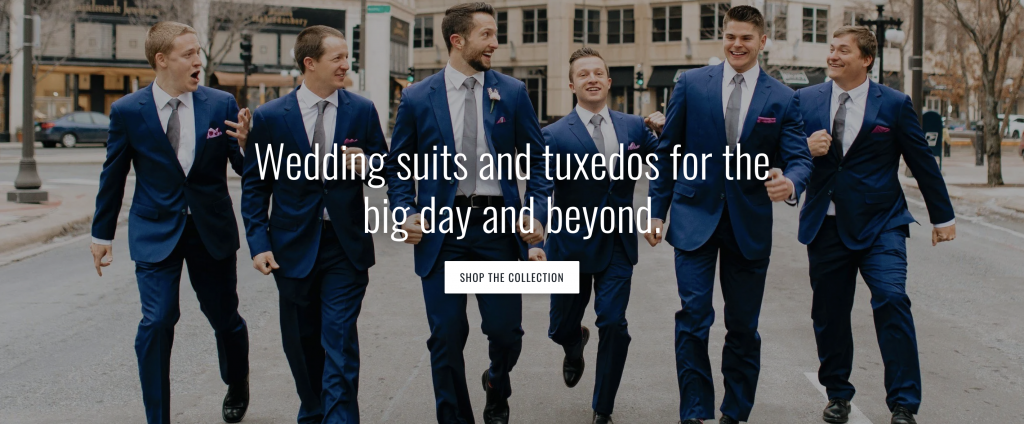 "The idea for TGS was born from Jeanne's personal experience planning her 2013 New Year's Eve wedding. With no other options available to affordably outfit their groomsmen, she and her husband were forced to go the usual rental route only to be disappointed by the logistics, poor fit, and price"
Next on our list is none-other than The Groomsman Suit. This company is completely anti-rentals and instead offers economically priced suits and tuxes for purchase. They boast an offering of one of the largest size ranges of any suiting brand and make it super easy to find your perfect fit. Once you tell Groomsmen Suit who's in your crew and what they should wear, their team will introduce themselves and make sure everyone gets what they need, so you can focus on everything else.
The Groomsman Suit Perks:
The Groomsman Suit Investment:
Pants starting at $65
Jackets starting at $129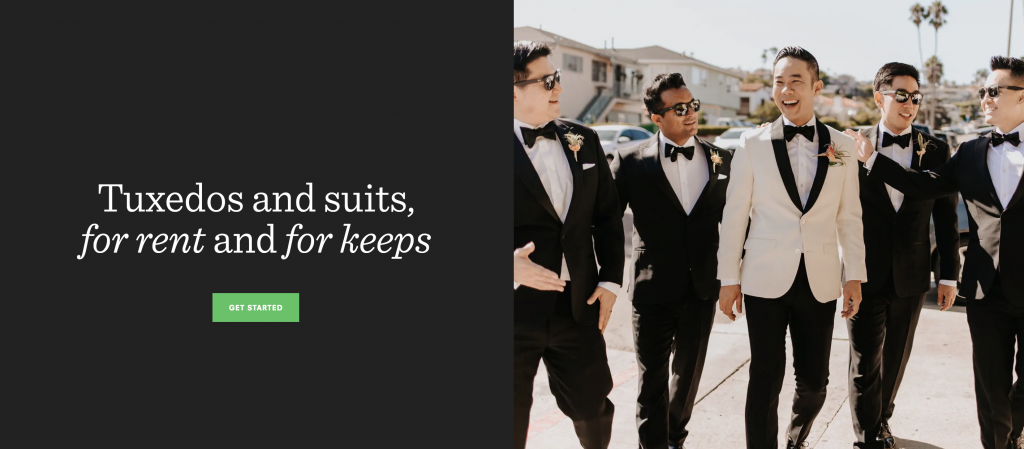 "The Black Tux was founded in 2013 by Andrew Blackmon and Patrick Coyne, longtime friends who, while preparing for Andrew's wedding in 2011, saw an opportunity to offer men an alternative to traditional tuxedo and suit rental outlets. After their experience renting for Andrew's wedding, they decided to explore different ways to improve the tuxedo rental process."
While Generation Tux offers rentals, and The Groomsman Suit offers suits for purchase, the next groomsmen suit store offers both! As the host of the event, you can dictate which suit/tux is required for your crew, and it is up to them whether they'd like to rent or purchase their attire. How cool is that? With flexible options for rentals, groomsmen have 3 days to get their rental in the mail after the big event. Plus, The Black Tux has a partnership with Nordstrom for an in-person fitting experience at certain locations. But of course, if you can't get to a showroom or Nordstrom location, they offer free at home try ons too!
The Black Tux Perks:
The Black Tux Investment:
Rent starting at $110
Buy starting at $450
"We got into the rental industry because the traditional way of renting was a long, difficult process. By bringing the process online, giving you a wedding management system and world class customer service, we've made this easy."
Our next groom and groomsmen suit rental store is Menguin. With a similar set of perks as our other rental options, Menguin is another awesome solution for your suit or tux experience. Plus, Menguin donates $2 from every order to the Humane Society, so there's some extra satisfaction with your rental knowing you're supporting a good cause too!
Menguin Perks:
Menguin Investment:
Groomsmen suit rentals starting at $109
Rest assured, selecting any of these groomsmen suit options will make planning for your big day much easier. You'll have peace of mind knowing that you can easily keep track of each groomsmen's order, have a fit guarantee to replace any poor fitting suits, AND rentals are shipped early. Plus, with excellent customer service team behind you, you're not alone in handling any suiting emergencies that may arise!
Need some guidelines on black tie attire definitions? Check out this post next.
Updated March 26, 2020