Planning a bridal shower can be a fun and exciting process. If it's your first time planning, however, you may have a lot of questions. Such as when to throw the shower, and when to send out invitations. Since we've already covered when to host the bridal shower, today we are talking about when to send out invitations. It's important to make sure that you allow enough time for guests to receive and RSVP.
So, how far in advance do you send bridal shower invitations?
As a general rule of thumb, bridal shower invitations are typically sent out between 4 to 6 weeks in advance. This gives guests time to clear their calendars and make any arrangements to attend. It also gives you plenty of time to follow up with any guests who have not yet RSVP'd.
Of course, there are a few factors that may affect the timing of your invitations. Here are some more common exceptions to this "rule":
If you're planning a destination bridal shower or a shower for out-of-town guests, you may want to send the invitations a little further in advance to give them ample time to plan their travel.
If the bridal shower is being held on a holiday weekend or during a busy time, you may want to send the invitations a bit earlier to help ensure that guests can make it.
While the average wedding has over a year planning timeline, some have a much shorter turnaround. If your couple is getting married more quickly, you may be planning the shower on a tighter timeline as well. Don't stress – just get the invites out as soon as you can. This is where digital invitations and online RSVPs are extra handy.
Overall, the key is to give your guests as much notice as possible so they can plan to attend the shower. By sending the invitations 4-6 weeks in advance, you'll give everyone the time they need to make arrangements and help ensure that the bridal shower is a success.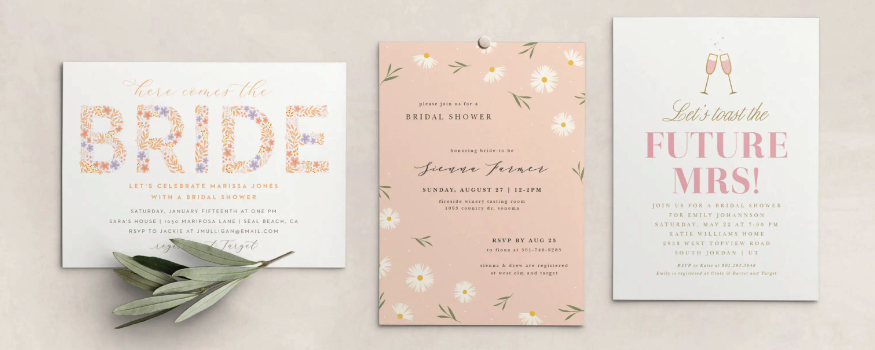 This post contains affiliate links and Wedding-Experience will be compensated if you make a purchase after clicking on an affiliate link (at no additional cost to you).