Unless you decide on a ceremony-only wedding, or you are planning to have a micro-wedding with just 10-15 people included, you will have to really spend a big portion of your wedding budget on food.
After all, a wedding is a celebration; and celebrations almost always mean having to serve delicious meals to your guests. This also means having to allot a significant amount of food on the catering budget.
You can have a great wedding reception with delicious food that doesn't break the bank. You just need to plan ahead and know what you're doing. In this article, we will share some ways to cut back on your catering costs.
What is the cheapest way to serve food at a wedding?
The easiest way to save money on catering is by preparing some of the food yourself. This can be as simple as making a batch of cookies or brownies in advance, or buying premade pizza from your local pizzeria and heating it up.
If you're planning on serving alcohol at your wedding, consider choosing one or two signature drinks that are less expensive than others and offering them at an affordable price instead of having all three options available for guests to choose from.
Lastly, think carefully about portion sizes when ordering food for a large group; if there aren't enough appetizers left over after everyone has eaten their fill then they might not feel like eating any more when dinner rolls around!
Wedding catering can be one of the most expensive parts of a wedding.
As you are planning your wedding, one of the biggest expenses will be food. Catering can be one of the most expensive parts of a wedding. The cost of catering is usually the second largest expense after venue rental, so it's important to plan ahead and make sure you get what you want without breaking the bank.
It's really important to plan ahead.
Planning ahead is key to saving money and having a stress-free wedding. It's important to plan in advance so that you know what you need, when it needs to be done, and how much it will cost.
From your venue and event styling, to your food, you need enough time to prepare and coordinate. Pro tip: You can save a lot by purchasing wholesale event supplies from a trustworthy supplier in advance, and make the most out of discounts and special deals.
If you don't have time or energy left over after planning all of the other details of your big day, then it's likely that something will slip through the cracks–and that something could be your catering!
Take advantage of seasonal food.
Seasonal food is usually cheaper, as it's grown locally and there's more of it to go around. Seasonal foods are also more likely to be in season and therefore tastier. They may even be easier to find, depending on where you live.
Seasonal foods can be certain fruits and vegetables available, as well as meats or seafood that are relatively cheaper during some months. Serve them along with other food in a buffet-style catering, or
Consider doing some of the preparation yourself.
You can save a lot of money by doing some of the preparation yourself. If you are good at cooking, consider preparing your own food and bringing it to the venue. You can also hire someone to do it for you if you don't want to take on this task yourself.
If this isn't an option for whatever reason, another way to save money is by buying food in bulk and freezing it for future use.
Choose your beverages carefully.
As you begin to plan your wedding catering, consider whether or not you want to serve alcohol. If so, there are a few things to keep in mind.
How much alcohol do you want? It's important to think about how many people will be at your event and what type of drinks they prefer.
Are they mostly beer drinkers or wine lovers? Are they looking for cocktails or something more classic? Try to gauge which drinks your guests will enjoy. Or, this may be a little unconventional, but you may also ask your guests to bring alcoholic drinks to serve, as presents for you and your partners.
How much does it cost to feed 100 wedding guests?
The cost of a wedding catering can vary greatly depending on the menu and the catering company. The average cost for 100 guests is $40 per person for plated dinners, and $27 per person for buffets.
You would definitely want to serve these meals on breathtaking tablescapes for a complete guest experience. Worry not because you can still have dreamy tablescapes without having to spend too much when you purchase wedding tablecloth in bulk. Buying in bulk would cut potential costs of renting, and you can always reuse them for your next events.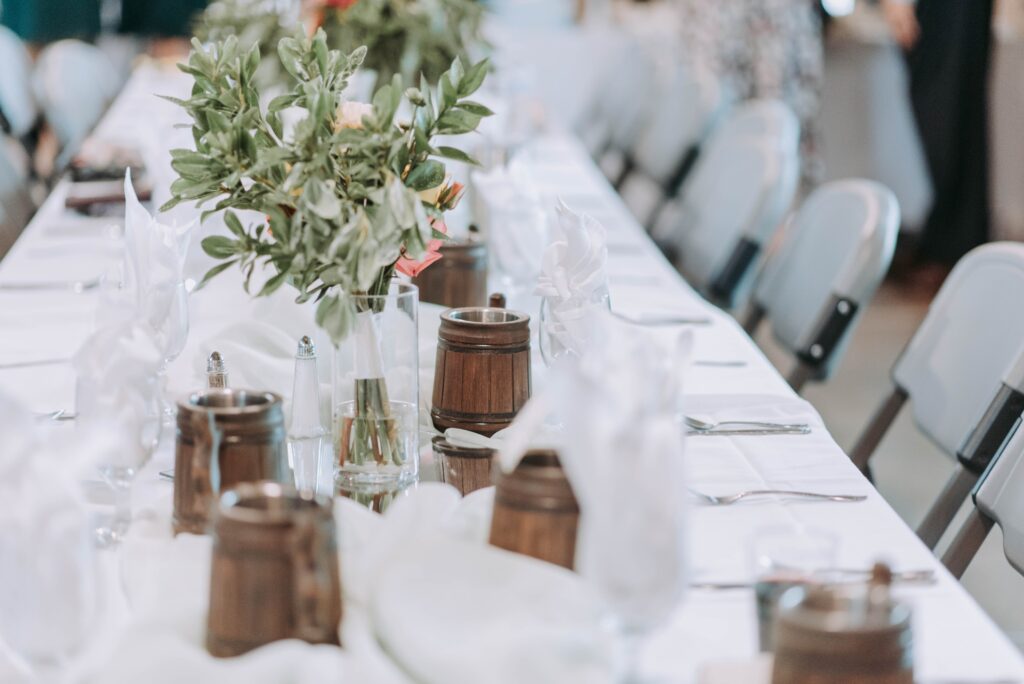 With care, you can have delicious catering for your wedding without breaking the bank.
I understand that planning a wedding can be stressful and time consuming. However, I also know that there are many things that can be done on a budget that will still make your day special.
Ask friends and family if they would like to help out with any tasks such as baking or decorating items for the reception hall or ceremony site; these people may even offer up items from their home if they were not able to attend but want to contribute anyway!
If you're planning a wedding, it's important to understand that there are many ways to save money. You can do this by planning ahead, choosing seasonal food and beverages, and being careful about portions. If you want something special for your guests' meals, consider doing some of the preparation yourself or using local vendors who have affordable prices. With care, you can have delicious catering for your wedding without breaking the bank!