We are already one month into 2021. While many of the 2020's weddings have been postponed, we are hoping the same fate won't happen to the weddings of 2021. To show how optimistic we are, today we are bringing the bright and cheerful hues that will mark this year's weddings. Ready to see the wedding color trends of 2021?
It's not a lie that wedding colors are some of the most important (if not the most important!) details of your day. People even think they have the power to set the tone for the entire day. So, when planning your wedding the first thing you might want to finalize is the color scheme. Wondering why? It's because colors influence everything – invitations, decorations, flower arrangements and bridesmaids' dresses!
According to WeddingWire, 2021 weddings are all about light and uplifting colors such as pale blue, sage green and classic ivory. Lilac, pinks and corals are expected too. But don't worry – if you are more of a bright and unique colors person, experts are anticipating the return of glistening metallic tones such as rose gold and copper and one of the traditionally unpopular colors – yellow!
So which colors to expect seeing everywhere in the next 12 months?
Powder blue
The tones of powder blue, season-less and versatile, can be incorporated into your wedding through decorations (such as flowers or bouquet ribbons), shoes, plates or colored glassware. This pastel tone can fit any kind of wedding and can stand alone in a neutral palette or be paired with pinks or yellows. With it being saturated enough, it fits all kinds of aesthetics and in the pictures you can easily accomplish very light and almost airy feels.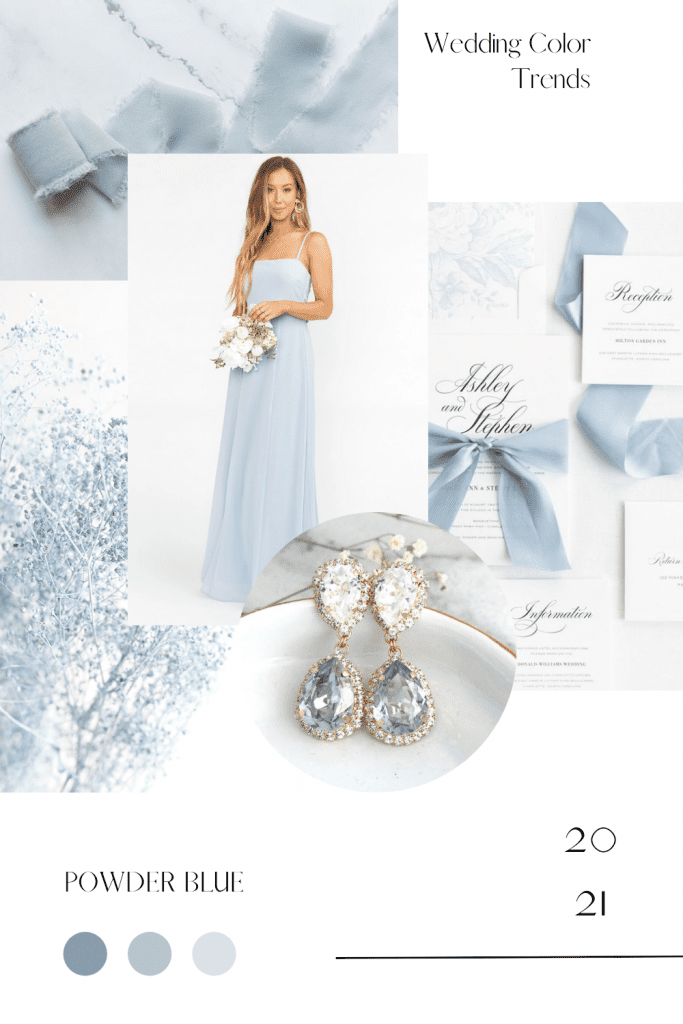 Lilac and Lavender
Previously popular bold tones of dark plum and amethyst might fall into oblivion in the upcoming year as we are expecting to see more of lilac and lavender shades, which, in our opinion, are perfect for garden weddings. Wondering how to use them? What could be better than incorporating the eponymous flowers into your bouquet and other flower arrangements! Both colors are sophisticated and compliment each other beautifully and when combined can create an uplifting and fresh color palette.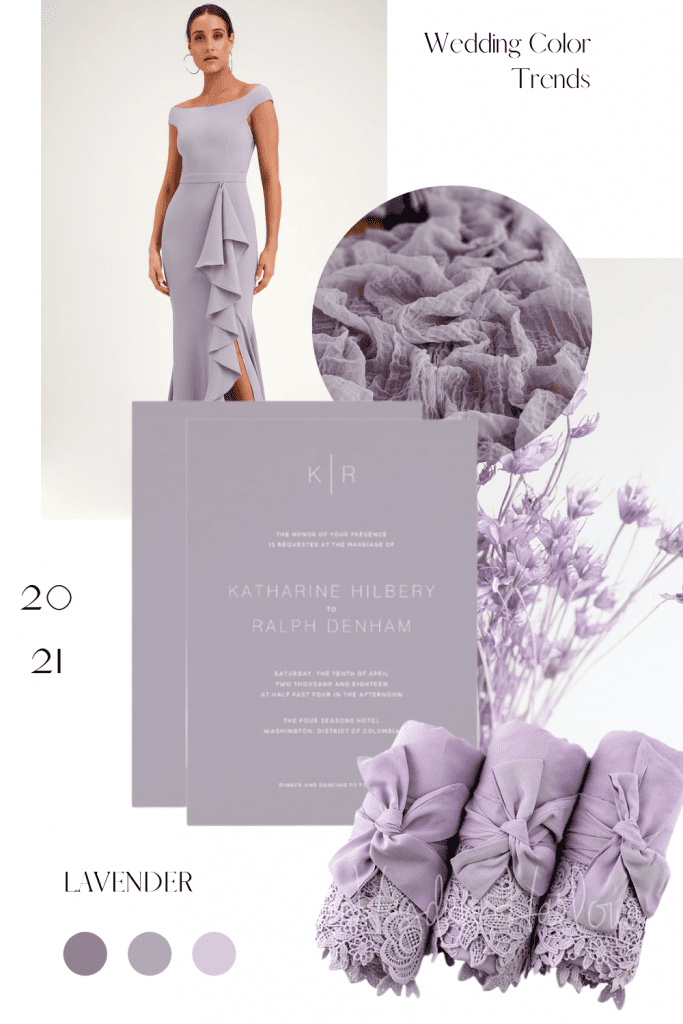 Green
It's safe to say that green didn't get enough recognition in the previous years but that is about to change in 2021. While in the past years it could only be seen in the floral arrangements and bouquets, experts are predicting green tones to be a color of 2021 weddings. And we are not talking about dark greens such as emerald or juniper, we are thinking of lighter greens – mint, sage, avocado, olive and pistachio. The advantage that comes with using green tones is that it flatters every skin tone and can be used as a part of the wedding attire. However you choose to incorporate green hues, one thing is for sure – we can't wait to see this color in all its glory in the ongoing year!
Orange
The shades of terra cotta and dark orange and rust have become an obvious choice for bohemian and rustic weddings. The pastel tone of papaya orange, paired with fuchsia, lime or teal is guaranteed to lift everyone's mood and on top of that, it's eye-catching and playful. In terms of decorations, you can use flowers such as Terracotta vases, Cymbidium orchids, and lilies.
Yellow
Even though traditionally unpopular, we are voting it as 2021's boldest wedding color. Since it's not a common choice, it's perfectly fit for couples that want to create a luxe and unique color palette. You can use it as an accent color if your palette is mostly white or neutral and its rich golden tones will give you warm and sun-kissed feels, as if you were getting married somewhere in beautiful Tuscany.
Are you getting married in 2021? Are you choosing one of the wedding color trends, or something different? Let us know your color scheme!
Featured Image: Dried & Preserved Flowers from Afloral
This post contains affiliate links.