Planning a wedding is a beautiful, exciting experience, but it can also have a significant impact on the environment. Luckily, there are sustainable wedding options that can help reduce the ecological footprint of your wedding without compromising on style or elegance.
Vintage Engagement Rings
Engagement rings are an important part of any wedding, but it's also important to choose rings that align with your values and beliefs. Have you considered purchasing a vintage or pre-owned engagement ring?
Not only is it a sustainable choice, but it's also a unique and meaningful piece of jewelry that tells a story. Vintage rings have intricate designs and timeless beauty that can't be found in modern jewelry. They're often more affordable than newly made rings, allowing you to save money while still getting a stunning piece of jewelry.
When shopping for pre-owned engagement rings, it's essential to do your research and choose a reputable dealer. It's also important to consider the ring's condition and whether it needs any repairs or maintenance. A trustworthy dealer will be transparent about the ring's condition and offer services to restore and maintain its beauty.
Eco-Friendly Invitations
Your wedding invitations will shape your guests' first impressions of your big day. Traditionally, paper invitations were the way to go, but let's face it—they're dated and, more importantly, not so great for the environment. Fortunately, there are alternatives that will make your invitations just as beautiful while reducing your carbon footprint.
One alternative to paper invitations is digital wedding invitations. These can be sent via email or through an online platform, eliminating the need for paper. Plus, it's more convenient for everyone since they can easily RSVP and get all the details without having to rifle through piles of paper.
You can also make use of recycled paper invitations. Many printing companies now offer recycled paper options, which use less water and energy during production. The result is unique and textured, with a cool backstory that'll give your guests something to talk about.
Sustainable Venue Options
Outdoor venues, such as parks, gardens, and beaches, are perfect for couples who want to tie the knot surrounded by nature. Not only are these locations picturesque, but they also have a lower environmental impact than indoor venues. The fresh air and open space will give your wedding a relaxed and intimate atmosphere.
If you're looking for a unique and rustic vibe, a barn or farm could be the perfect setting for you. Not only do they support local agriculture, but they often have sustainable practices like composting and waste reduction.
Even if your chosen venue isn't inherently eco-friendly, there are still ways to make it more sustainable. For example, switching to LED lighting can significantly reduce energy usage. And setting up recycling stations can encourage guests to reduce waste.
Locally Sourced Catering
Choosing locally sourced food means that the ingredients come from nearby farms and producers, reducing the distance they need to travel to reach your wedding. This means fewer emissions from transportation and a smaller environmental impact overall. It's also a great way to support local businesses and ensure that you're serving fresh and delicious food.
When selecting your caterer, look for those who prioritize sustainability and have established relationships with local farmers and producers. You can also ask your caterer to provide vegetarian or vegan options to reduce the carbon footprint associated with meat production.
Finally, communicate with your caterer about your expected number of guests to minimize food waste. Any leftover food can be donated to local food banks or composted, ensuring it doesn't go to waste.
Zero-Waste Decorations
The key to zero-waste decorations is to use sustainable materials and avoid disposable or single-use items. This means using vintage fabrics, natural elements such as flowers and branches, or potted plants as centerpieces.
Another great option for zero-waste decorations is renting items such as tablecloths, chairs, and other decor instead of purchasing and discarding them after the wedding. This not only reduces waste but also saves you money.
When planning your eco-friendly decorations, keep in mind the impact of your choices on the environment. Choose biodegradable options and avoid plastic or non-recyclable materials whenever possible.
After the wedding, you can donate or repurpose any decorations or materials that can be used again, reducing waste and giving them a new life.
Sustainable Wedding Favors
One popular eco-friendly wedding favor option is to provide seed packets or small potted plants that guests can take home and grow themselves. This not only reduces waste but also provides a lasting reminder of your wedding and your commitment to the environment.
Edible favors are also a great choice, like locally sourced honey or organic chocolate. It's a sweet and sustainable way to thank your guests and support local businesses all at once. You can also opt for practical favors that guests can use over and over again, such as reusable tote bags or water bottles. These items are not only helpful but also reduce waste by encouraging guests to use them in their daily lives.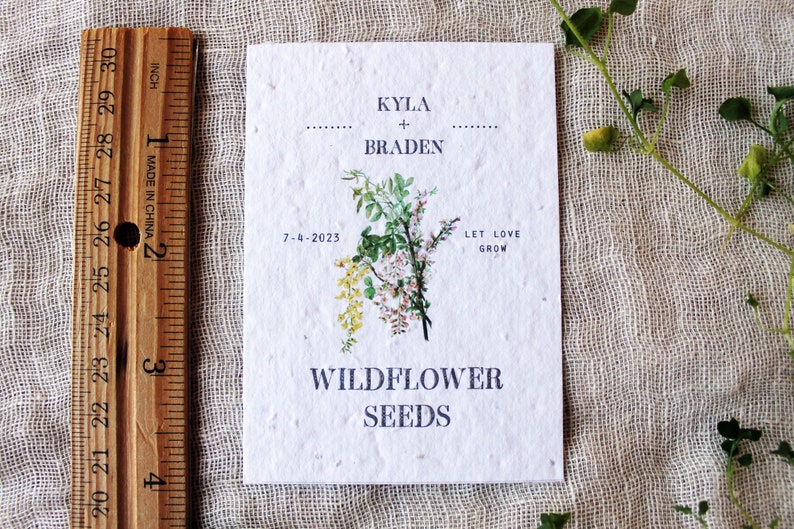 Takeaway
Remember, every little step counts, and by taking small yet meaningful actions, you're making a difference. Take inspiration from these practical ideas to plan the sustainable wedding of your dreams while reducing your ecological footprint. So, go ahead and start planning your eco-friendly and beautiful wedding today!
This post contains affiliate links and Wedding-Experience will be compensated if you make a purchase after clicking on an affiliate link (at no additional cost to you).