The 2022 gift guide to celebrate your BFF's engagement
Your friend is engaged, how exciting! While your friend may not expect an engagement gift, they will certainly appreciated receiving one! This is an incredibly exciting (and potentially overwhelming) time and a thoughtful gift can go a long way. That said, it can be hard to find the perfect way to say 'congrats'. That's why we've put together a list of some of our favorite ways to celebrate a newly engaged BFF. Our goal is to offer gifts that aren't too cheesy and fall into one (or more!) of the following categories:
Practical – gifts that the couple will find useful
Keepsake – gifts that will hold the memory of their special day
Celebratory – gifts that feel like a celebration
We stray away from typical 'bride to be' and 'engaged' gifts to present you with gifts your friend will truly adore receiving.
Without further delay, here's our 10 best engagement gifts perfect for any friend or newly-engaged couple:
Price: Starts at $15 (personalized gift box only)
Greetable is our go-to favorite for any gift occasion, including engagements! They offer a number of adorable personalized gift boxes that you can mail straight to your friend – so its a perfect option if the newly-engaged couple doesn't live nearby! Personalize their engagement gift box with a few engagement photos, add a gift (or 2), a sweet note, and hit send!

Starts at: $16 (without customization); $29 (with customization)
Gift the perfect way for them to store and show off their new bling! Ring boxes can be customized, or left simple. Either way, it is a beautiful and thoughtful gift for any bride-to-be!
Price: Individual products start at $22. Gift set is $75.
Shinery's collection of jewelry care products are top notch. They use innovative technology to make your jewels shine with clean, plant-based ingredients. Plus, their beautiful packaging makes a statement for gift-giving. This would make a perfect compliment to a ring box if you're looking to put together a gift box!
Price: Starts at $48
Erin Condren is a go to brand for all things organization. They offer a special planner specific for wedding planning that includes wedding tips, charts, checklists, and trackers to help your friend stay organized.
Price: Starts at $36.50 (candle only)
This customized candle gift is a stunning and modern way to gift a personalized item. Add the couples names, the date they got engaged and a custom message. The candle comes in a gift box, so it will arrive wrapped and ready for gift-giving. Add on matches and/or chocolate to complete your gift box.
For more custom candles, check out Wisdom House ($24 each).

Price: Personalized stationary from Minted starts at $51 for 25 notecards
Wedding planning tends to include a lot of handwritten notes. Thank you's for gifts, notes to vendors, bridesmaid proposals, etc. There are tons of opportunities for handwritten notes, which makes some personalized stationary a perfect gift for an engaged friend.
Price: $66.99 for a set of 4 glasses
This set of coupe glasses is a perfect glassy gift that feels luxurious with its beautiful packaging. This gifts perfectly on its own, or pair with with a cocktail book or a bottle of champagne!
Price: Starts at $108.95 (without customization)
Getting engaged and planning a wedding tend to result in the accumulation of a lot keepsake items you hate to get rid of. Gift a storage solution that will safely hold the couples important memories for a lifetime.
Price: Starts at $100
The perfect, unique gift if the couple got engaged at a restaurant! Get a custom matchbook illustration from the restaurant. Deanna will create a custom illustration to match a specific matchbook, or you can provide the link to the restaurant's website for inspiration. This gift idea is sure to be unique
Price: $24
We love gifting keepsake Christmas ornaments! Ornaments are a great gift that the couple can use to remember their special day each every holiday as they decorate their tree.
Price: $37 per box
Gift a themed subscription box PLUS free access to premium tools and services to help with wedding planning! Subscribers receive:
Tools & Live Help from pro planners ($27 value)
Wedding Club Card membership ($30 value)
Extra 20% OFF in Miss To Mrs Shop
Name Change Kit ($40 value)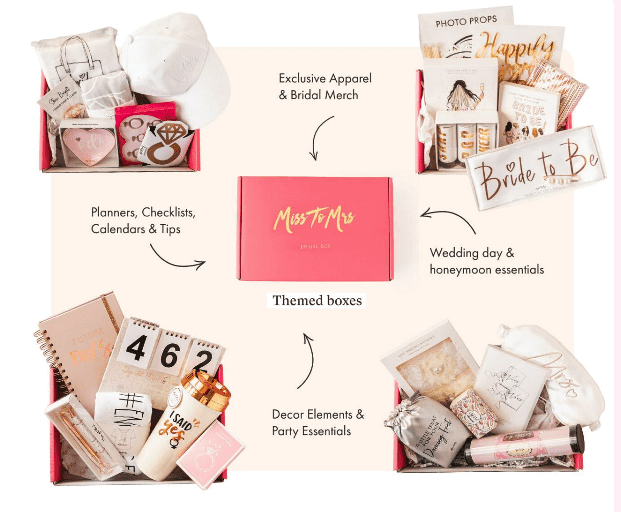 Which engagement gift idea was your favorite? We hope you found this guide helpful!

This post contains affiliate links.