One trend we've been noticing creeping into weddings is patterned bridesmaid dresses. Traditionally, bridesmaid gowns are solid colored, commonly in a tulle or chiffon fabric. But the pattern trend is interrupting that! Floral bridesmaid dresses instantly make your wedding party look more unique without being *too* trendy. If you're going for really trendy, consider mix and maxing different patterns and prints for your party's look.
Where To Buy Floral Bridesmaid Dresses
Whether you're having a garden ceremony or a beach wedding, we adore this floral bridesmaid dress trend. So we've been loving seeing retailers starting to carry floral bridesmaid dresses! That said, floral maxi dresses have been trendy in the retail fashion world. Don't be afraid to look at non-wedding shops for your dresses!
Here a few of the retailers we are currently seeing starting to stock floral gowns: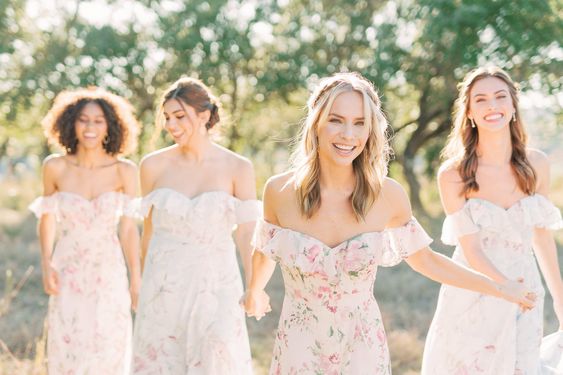 Floral Bridesmaid Dresses By Color
We've grouped our favorite floral dresses by color so you can jump to the shade you're picturing for your wedding day.
Yellow
Pink
Lavender & Purple
Blue & Green
Red & Burgundy
Colorful & Multicolored
We'd love to know, what do you think about the floral bridesmaid dress trend? Would you go for it, or stick to more traditional solid color gowns? Share your thoughts in the comments below!
---
Featured Image: Mumu Weddings
This post contains affiliate links and Wedding-Experience will be compensated if you make a purchase after clicking on an affiliate links (at no additional cost to you)